Norwich Winter Wonderland and Nearby Budget Friendly Hotels
Can you feel a chill in the air? Are you starting to wrap presents? Does it feel like Christmas music is everywhere? If so, it's time to get into the festive spirit! And what better way to embrace the seasonal fun than with a visit to Winter Wonderland in Norwich?
Norwich Winter Wonderland is a Christmas spectacle with something for all tastes. From adrenaline-filled rides to trips to Santa's Grotto, this Christmas market is the best way to relax after a long week in the office — especially if you're staying in a hotel afterwards.
Today, we're looking at Winter Wonderland and cheap Norwich hotels to ensure your trip is full of fun, Christmas glee, and no extra costs! Let's dive in.
About Winter Wonderland in Norwich
Ready to spread some Christmas cheer? Winter Wonderland in Norwich is the destination for you. Packed with yummy festive food and drink, Christmas market stalls, and rides, this event is a must-attend for all Xmas lovers. 
Here's all you need to know before you go:
When is Norwich Winter Wonderland?
Norwich Winter Wonderland is on from the 17th November 2023 to the 3rd of January 2024. 
You'll find the show-stopping Christmas market in Norfolk Showground, Dereham Road, Norwich, NR5 0TT.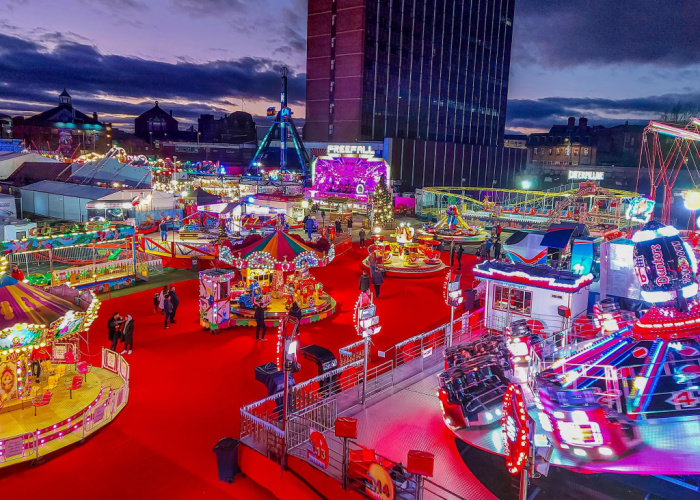 Top

Norwich Winter Wonderland Rides

& Attractions

This Norwich Christmas market isn't like the others. Alongside classic market stalls, you'll find rides and attractions that'll impress you more than Santa's sleigh.
No Limit

— A fast and furious rotating ride. Minimum height 1.4m and age 14 years.

AirMaxx

— A modern swing that hits top speeds of 90km/h and sends riders upside down. Minimum height 1.4m and age 14 years.

Sky Swing

— The world's tallest portable swing, constructed by experts in Holland. Minimum height 1.2m and age 5 years.

Waltzer

— A traditional fairground ride and favourite for those who enjoy spinning. Minimum height 1.2m and age 4 years.

Freefall

— Up, down, sideways and back. It's time to feel the force! Minimum height 1.2m.
That's right. Norwich Winter Wonderland is home to some extreme rides! Other popular rides include Dodgems, Sizzler Twist, Superbowl, Santa's Sleigh Ride, Big Top Circus Funhouse, Tea Cups, Giant Observation Wheel, and more. Christmas 2023 is all about thrills!
Thrill-seeking isn't the only way to have fun here. Attractions at the event include a real Christmas tree maze, Santa's Grotto, and a real ice rink. Book your ice skating tickets early to guarantee your space on the rink.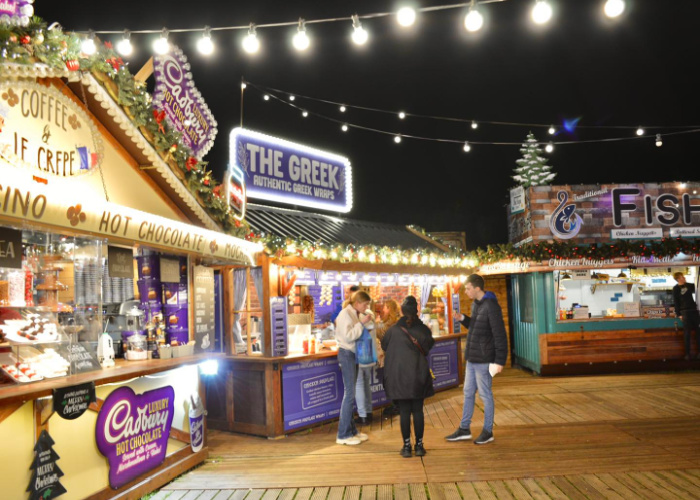 Food and Drink at Winter Wonderland
Winter Wonderland in Norwich also has lots of festive food and drink. From luxury hot chocolates to mulled wine, plenty of refreshments keep you warm during your visit.
Guests can enjoy the Wild Boar Bavarian Bar for hot drinks, draft beers, cocktails, or wines. Soft drinks are also available.
The Winter Wonderland bars also have live music on the weekends for the perfect winter night out. Don't worry about the weather! There are heated seating areas and lots of light to ensure you're comfortable on your visit. Private igloos will also be available for booking. 
Food at Norwich's Winter Wonderland includes traditional sausages, chips, cheeses, sweet treats, and more. 
How to Get
Norwich Winter Wonderland Tickets
Norwich Winter Wonderland tickets are needed on entry. You must book these online, and you'll need to book an entry slot. Time slots are divided up into off-peak and peak, but the prices are the same for both.
Interested in the Norwich Winter Wonderland prices? Child tickets are £4, Adult/Teen tickets are £5, and you can buy a family ticket for £15. Infants (under two years old) receive free admission. 
The entry fee for the event doesn't just cover one entrance, though. Once you've bought an entry ticket, you receive FREE return entry for the duration of the event. Perfect if you want to make the most of the season.
Budget-Friendly
Hotels Near Norwich Winter Wonderland
The best way to take your Norwich Winter Wonderland experience to the next level is with a nearby hotel room. Forget driving or catching a train after your trip. With these budget-friendly hotels, you can enjoy the event for longer without travel stress. Awesome!
Here are some expert-approved affordable Norwich hotels: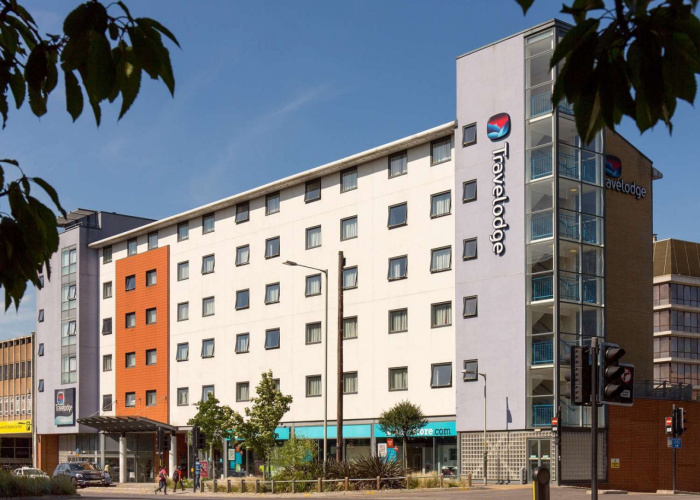 1. Travelodge Norwich Central
Travelodge Norwich Central is a great pick if you want to stay in the heart of Norwich without splurging on an expensive hotel. This location provides modern rooms and breakfasts, and you're close to other places of interest in Norwich.
Rooms for two adults start at £56.99 per night at the Saver Rate. But note that Saver Rate rooms are non-refundable. If you want the right to a refund, opt for the Flexible Rate package (£63.99). Standard double rooms have a king-size bed, tea and coffee, Freeview TV, towels, and an ensuite with a shower. 
You can add a breakfast to your booking online or on arrival. Travelodge breakfasts include Lavazza coffee, cooked breakfasts, pastries, and plant-based plates. There's something for everyone here!
This Travelodge doesn't offer free parking. However, drivers can access chargeable 24-hour parking at St. Stephens NCP car park. The hotel is a 20-minute walk from Norwich Railway Station.
As Norwich Winter Wonderland is located at Norfolk Showground, you must take a 20-minute taxi or 28-minute public transport journey from the hotel. Factor this into your plans to ensure you can reach your entry slot in time.
Learn more about Travelodge Norwich Central here.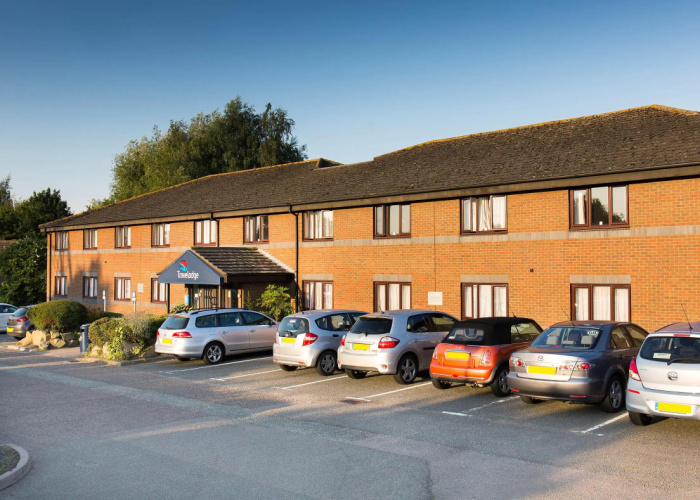 2. Travelodge Norwich Cringleford
Alternatively, if you want to stay in a Travelodge but want to be further away from the city centre, the Travelodge Norwich Cringleford could be for you. 
This hotel is situated southwest of the city, making it a seven-minute drive away from Winter Wonderland. If you're taking public transport rather than a taxi, you'll still need to make a 30-minute public transport journey.
Standard rooms with a double bed start at £47.99 with Travelodge's Savers Rate and are £52.99 at the Flexible Rate. These rooms include an ensuite and shower, fresh towels, tea and coffee, and a cosy duvet with four pillows. Everything you need for a fantastic winter evening.
Breakfast can be added to your reservation online or upon arrival. The Travelodge Norwich Cringleford might be outside the city centre, but there are still plenty of food and drink options in the surrounding area. 
Travelodge Norwich Cringleford offers free parking on a first-come, first-served basis. 
Learn more about Travelodge Norwich Cringleford here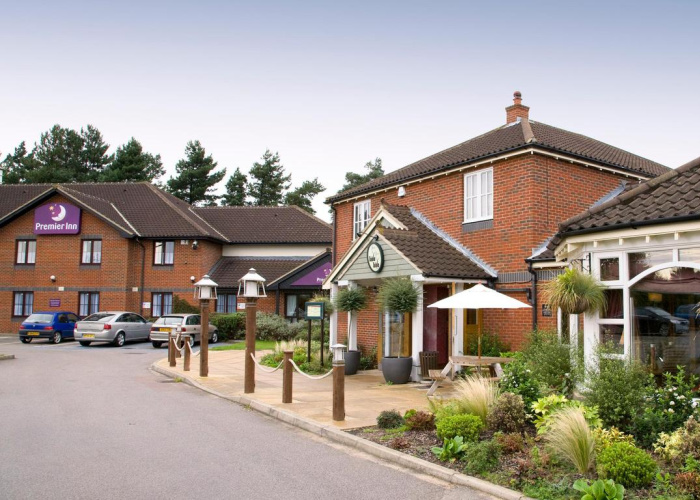 3. Premier Inn Norwich West (Showground Hotel)
If you want to stay right on the doorstep of Winter Wonderland, then Premier Inn Norwich West is one of the best hotels in Norwich for you. It's ideal if you want a cosy bed to sleep in right after your last sip of mulled wine. 
A double room for two adults starts at £70 with a Flex booking, £63 with a Semi-Flex booking, and £52.50 with a Standard booking. If you want a refundable room, opt for the Flex package. All standard double rooms have a powerful ensuite shower, a vanity area, a hairdryer, tea and coffee facilities, and clean towels.
The Premier Inn Norwich West offers on-site breakfasts, dinners, and meal deals in partnership with their Table Table restaurant. 
There's an on-site car park for drivers, but it can't accommodate trailers, trucks, or coaches. If you're travelling by train, Norwich Train Station is a 48-minute public transport journey away or a 20-minute drive.
Learn more about Premier Inn Norwich West here.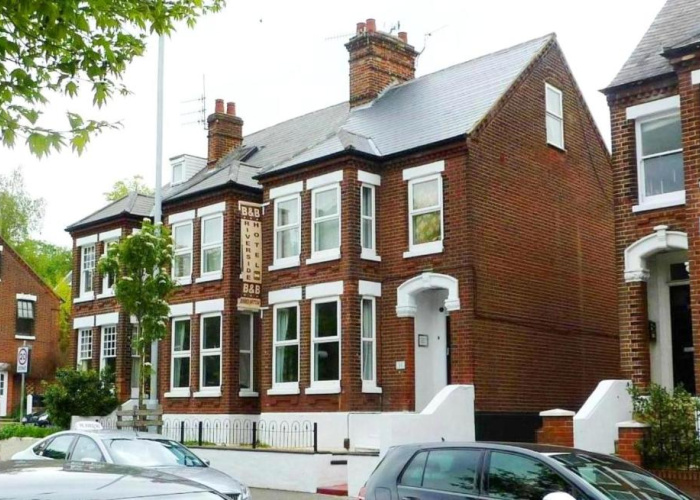 4. Riverside Hotel
Located in central Norwich, Riverside Hotel is an independent bed and breakfast that could be your home while visiting Norwich Winter Wonderland.
Double rooms at the Riverside Hotel start at £65 per night, but these prices are subject to change. Standard double rooms include free Wi-Fi, a private bathroom, a flat-screen TV, a safety deposit box, a tea/coffee maker, and more. You can add breakfast to your reservation for £5. 
Permit parking is available here but for an extra charge. At this hotel, you're only 4 miles from Norwich International Airport and 200 yards from Norwich Train Station.
Riverside Hotel is a 22-minute drive from Winter Wonderland and a 55-minute public transport journey. This hotel is more accessible to those driving or booking taxis to and from the event. 
Learn more about the Riverside Hotel here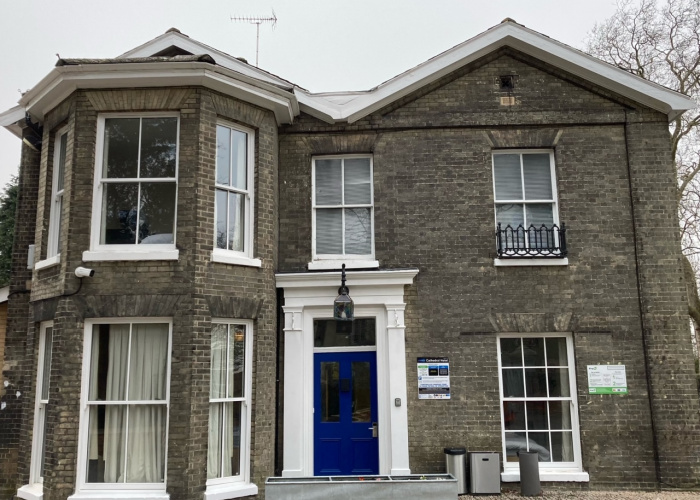 5. The Earlham Hotel
The final budget-friendly Norwich hotel on our list is The Earlham Hotel. Another very central hotel, this modern accommodation is an excellent idea if you want to enjoy Winter Wonderland and Norwich for a few days. 
Currently, double rooms for two adults start from £80 per night. This fee includes free cancellation and no prepayment (you can pay in full at the property). Standard double rooms have a private kitchenette, ensuite bathroom, flat-screen TVs, free Wi-Fi, complimentary toiletries, streaming services, towels, refrigerators, and more. 
The hotel offers a snack bar and a tea/coffee maker, and you're a short walk from many central restaurants, pubs, and food shops.
Free parking is available at The Earlham Hotel, which is excellent news for any drivers. The hotel is 1.1. Miles from Norwich Train Station and 2.6 miles from Norwich International Airport. A taxi from the hotel to Winter Wonderland takes 15 minutes, and you can arrive via public transport in 45 minutes. 
Learn more about The Earlham Hotel Here
Final Thoughts
Whether it's your first time visiting Winter Wonderland in Norwich or not, level up your experience with a budget-friendly hotel.
We hope this blog has inspired you to plan now to avoid the rush and last-minute prices. Merry Christmas, and have fun!