Top 10 Ibiza Hotels with Water Slides for Family Fun in 2024
Welcome to our guide on the best Ibiza hotels with water slides. If you're planning a trip and are looking for family friendly hotels, you're in the right place.
We're going to show you where you can enjoy a swimming pool with a fun slide, top-notch child friendly facilities, lively kids clubs, and spacious family rooms. These hotels are perfect for making your stay in Ibiza unforgettable.
The Best Ibiza Hotels with Water Parks:
Sirenis Seaview Country Club
Invisa Figueral Resort
Playa Bella Apartments
Marvell Club Hotel & Apartments
Invisa Hotel Ereso
Leonardo Royal Hotel Ibiza Santa Eulalia
Leonardo Royal Hotel Ibiza Santa Eulalia
Suneo Caribe, Es Cana
The Grand Palladium Palace Ibiza Resort & Spa
Casa Luis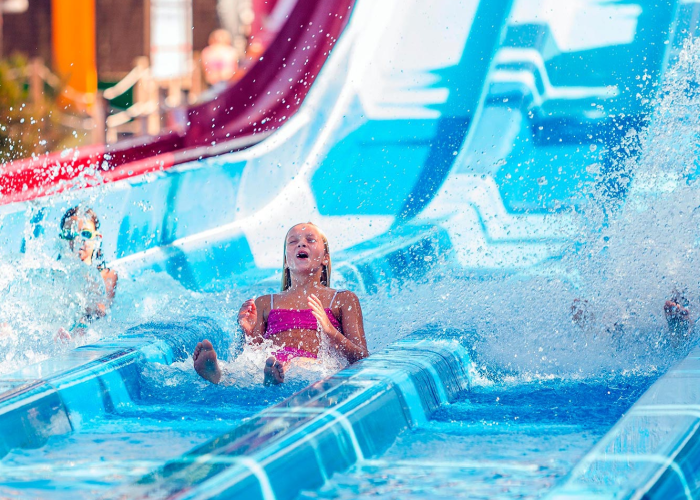 Sirenis Seaview Country Club
Address: Calle des Caló, s/n, 07829 Sant Josep de sa Talaia, Balearic Islands, Spain
Sirenis Seaview Country Club, a beautiful luxury hotel, is perfectly situated overlooking the sea at the far end of the San Antonio Bay. The hotel offers comfortable apartments and studios in low-rise Mediterranean design buildings and is often considered one of the finest accommodation complexes on the island.
Being just 100 metres away from the beautiful Port d'es Torrent beach and 4 km from the lively San Antonio Town, its location is one of its prime attributes. What's more, it's a mere 8km journey from the airport, adding to its convenient accessibility.
The hotel rooms include modern and tastefully furnished apartments and studios, all equipped with air conditioning, satellite TV, a kitchenette, safe, telephone, fridge, hairdryer, and a private balcony. This is truly a family friendly hotel offering all the comforts of home in a paradise setting.
For those who love food, there's a fantastic on-site restaurant and bar. As all apartments are self-catering, guests can choose to whip up their meals in the comfort of their kitchenettes or have them prepared by the hotel's culinary team. And with a variety of bars and restaurants in nearby San Antonio and the surrounding Bay area, options are aplenty.
In addition to self-catering and half-board, Sirenis Seaview Country Club also offers an All-Inclusive option, perfect for families wanting to focus purely on enjoying their holiday.
With a swimming pool and a separate children's pool, a gym, tennis court, table tennis, sauna, Jacuzzi, shops, TV lounge, and a kids playground, the entertainment and leisure options are abundant. One of the key highlights is the free access to Sirenis Aquagames Eivissa located next door.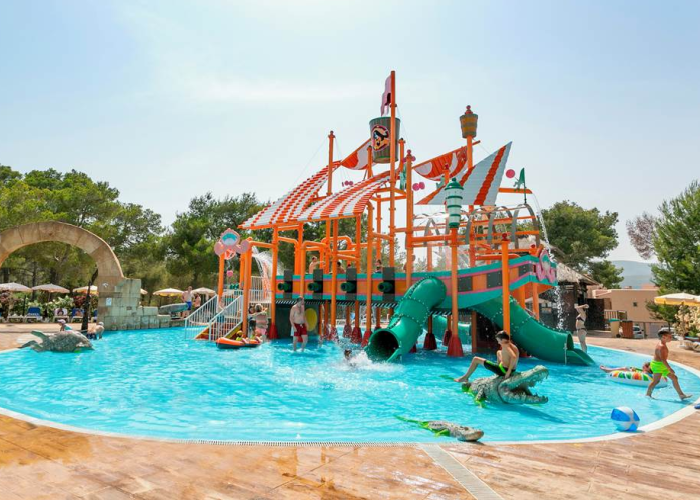 Invisa Figueral Resort
Address: Blanca is Playa de Es Figueral, 07850 San Carlos (Santa Eulalia, Ibiza)
Invisa Figueral Resort- Cala Blanca is a top-tier destination amongst child friendly hotels. Situated right on the beachfront, this resort offers an idyllic setting for a relaxed seaside holiday. Only 200m from the nearest beach and 32km from Ibiza Airport, it combines the allure of tranquil beachside living with the convenience of easy accessibility.
Guests can unwind on the sun terrace by the resort's outdoor swimming pools, or immerse themselves in a myriad of onsite sports activities. The resort uniquely balances adult leisure with child-friendly fun, making it the perfect family hotel.
Ensuring that the youngest guests are never short of entertainment, the resort provides an engaging kids club split into three age groups (3-7 years, 8-11 years, and up to 12 years old). The kids club is part of a dedicated children's area, which includes a separate pool and an exciting pirate splash zone!
Rooms at the Invisa Figueral Resort are designed to provide the utmost comfort, featuring a private bathroom, telephone, satellite TV, air conditioning, safety deposit box, mini fridge, Wi-Fi access, and a personal terrace.
Catering to varied palates, the resort has a dining room and four buffet-style restaurants, each promising to deliver a culinary journey that complements the overall resort experience.
For those inclined towards fitness and recreational activities, the resort boasts an impressive line-up, including two outdoor swimming pools, an adult pool, an indoor pool, and even a fitness area. The aqua gym, aerobics, water polo, archery, French bowls, rifle shoot, darts, tennis courts, volleyball, and football court provide ample choices for activity-filled days.
After a day of activities, families can gather for resort-organised entertainment, including diverse shows and games.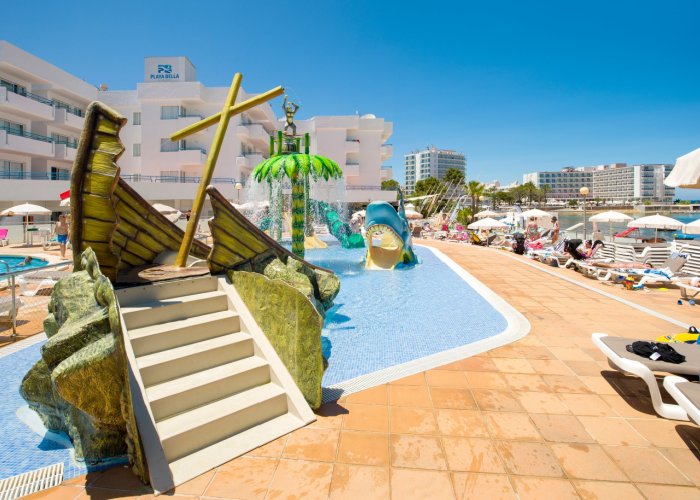 Playa Bella Apartments
Address: Carrer de Jaén, 2, 07829 Sant Josep de sa Talaia, Illes Balears, Spain
Playa Bella Apartments is a standout choice among the best hotels in the Bay of San Antonio. Located directly on the beach and 18km from Ibiza Airport, Playa Bella offers a blend of convenience and seaside enjoyment, making it an ideal choice for family friendly hotels.
A perfect destination for the whole family, these apartments are designed to cater to couples, friends, and families seeking a memorable self-catering accommodation. The complex comprises 155 apartments, including Studios, One-bedroom, Two-bedroom, and Three-bedroom types. Each apartment is air-conditioned (seasonal) and equipped with an LCD TV with many English stations, including several children's channels. Free Wi-Fi and either a balcony or terrace ensure that guests have all the comforts of home. The fully furnished kitchenettes, equipped with a kettle, toaster, two electric rings, microwave, and fridge, make meal preparations a breeze.
While self-catering is an option, the complex also houses two poolside restaurants. These eateries offer quality dishes and refreshing drinks right next to the outdoor swimming and splash pools. The surrounding area also features additional restaurants and a pub for more dining options.
Playa Bella shines in terms of children's activities, offering a diverse array of entertainment options. The large swimming pool and separate children's splash pool, along with the terrace equipped with sun loungers, promise endless fun under the sun.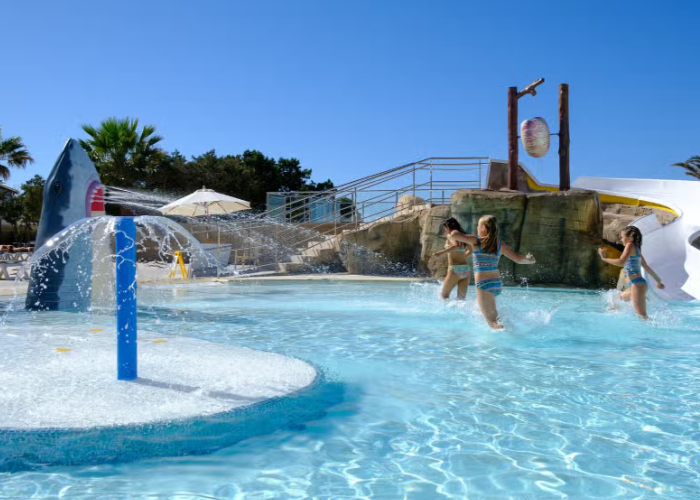 Marvell Club Hotel & Apartments
Address: Bahía de Sant Antoni, 07839 San José-ses Fontanelles, Spain
The Marvell Club Hotel & Apartments is a prime example of luxury family hotels in Ibiza, offering a delightful blend of convenience and flexibility. This beachside retreat is ideally located close to the seafront, within easy access of the vibrant local nightlife, diverse restaurants, and bustling shops.
Only 100m from the seafront and 500m from Punta Xinxo Beach, this hotel truly embodies a laidback beach break. For those travelling by air, the Ibiza Airport is conveniently situated just 18km away, further adding to the easy accessibility of the Marvell Club Hotel & Apartments.
The accommodations at Marvell Club embody light and airy elegance. Each apartment comes with an en-suite bathroom, complete with either a bathtub or a shower. A separate bedroom ensures privacy, while amenities such as a satellite TV, minibar/fridge, safety deposit box, and a terrace (some offering sweeping sea views) ensure a comfortable stay.
In terms of gastronomic offerings, the hotel impresses with its diverse options. There is a buffet-style restaurant for those who appreciate variety, as well as a pizzeria for a casual, family-friendly dining experience. The lounge bar and beach bar add to the vibrant dining scene at the hotel, offering refreshing drinks in relaxed settings.
The Marvell Club Hotel & Apartments stand out among family hotels, offering ample recreational options. An inviting freshwater outdoor swimming pool, coupled with a separate children's pool with slides, offers endless fun for all ages.
A sun terrace with sun loungers and parasols invites guests to relax and soak in the Ibiza sun. Complimentary Wi-Fi and a rich entertainment programme further enhance the Marvell Club experience, making it a top choice for families seeking a luxurious and fun-filled holiday.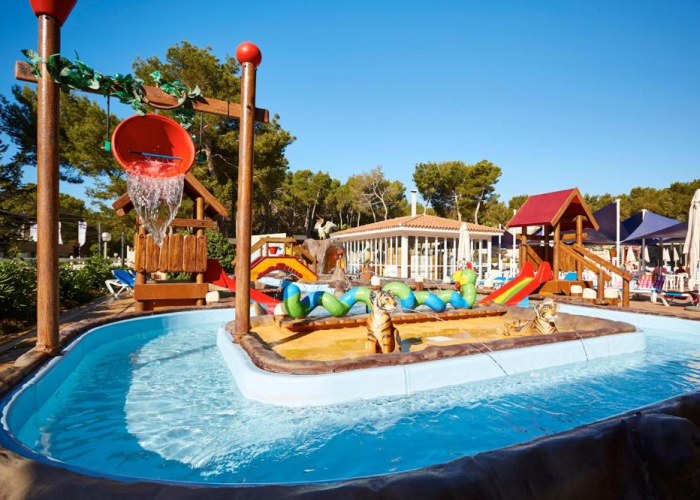 Invisa Hotel Ereso
Address: Playa de, 07840 Es Canar, Balearic Islands, Spain
The Invisa Hotel Ereso stands among the top child friendly hotels in Santa Eulalia, Ibiza. Strategically positioned just 150m from the beach and close to Santa Eulalia's sandy beach and sea, this hotel provides an excellent spot to explore the town and island at large. With the resort centre just a few moments away, guests can easily access shops, restaurants, and bars.
The accommodation, which underwent a renovation in 2003, consists of a six-storey main building housing a total of 234 rooms. Each room is fitted with an en suite bathroom, a direct dial telephone, TV, air conditioning, a terrace, and a hire safe. Wi-Fi is available at an additional cost. Note that pets are not permitted, and there are no wheelchair-accessible rooms.
Food and drink options are abundant. Apart from its close proximity to Ibiza Town, which is around 20km away, the hotel is surrounded by numerous shops, restaurants, bars, and pubs. For those who prefer to dine in, the hotel features an air-conditioned restaurant with highchairs for children, ensuring it truly feels like a family hotel.
For guests seeking to stay active during the school holidays, the hotel boasts a range of sports facilities, including water aerobics, tennis, table tennis, gym aerobics, and archery. Additionally, pool or snooker is available for an extra charge, along with handball and football. The nearest golf course is about 14km away.
The Invisa Ereso truly shines as a hub of entertainment. It boasts two swimming pools, each surrounded by sun beds and parasols for relaxation, as well as a snack bar. An engaging entertainment programme, along with special entertainment for younger guests, ensures there's never a dull moment. For the little ones, there's also a kids club to keep them engaged and entertained.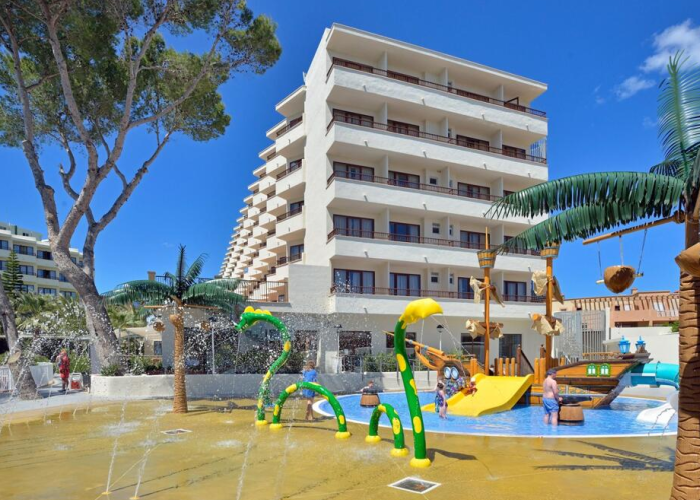 Leonardo Royal Hotel Ibiza Santa Eulalia
Address: Carrer Pou Roig, 1, 07849 Santa Eulària des Riu, Illes Balears, Spain
The Leonardo Royal Hotel Ibiza Santa Eulalia is unquestionably one of the best family hotels in Ibiza. Located right by the beautiful bay of Es Cana, this family-friendly hotel combines style and comfort, making it a perfect choice for beach lovers. With attractions like the world-renowned Hippy Market less than 2km away, there's plenty to see and do nearby.
Situated right by the beach, guests are mere steps away from the sun-soaked sands and refreshing sea waves. Additionally, the hotel is 27km from Ibiza Airport, ensuring convenient travel for out-of-town guests.
The Leonardo Royal Hotel Ibiza Santa Eulalia boasts sleek and modern guest rooms, complete with a beachy vibe. Each room comes with a private balcony or terrace, along with amenities like air conditioning/heating, a private bathroom, satellite TV, a safe, and a mini-fridge. Free Wi-Fi is available throughout the hotel, and baby cots can be supplied upon request, accommodating family rooms of various sizes.
For those seeking an extra touch of luxury, the hotel also offers an exclusive range of Premium Rooms. These rooms feature magnificent sea views, a PlayStation console, and a deluxe Nespresso machine. Premium Room guests are also treated to a variety of perks such as welcome snacks and drinks, cosy robes and slippers, and even an à la carte pillow menu.
For food and drinks, the main restaurant offers a buffet-style menu with a variety of local and international dishes. There are also several bars that serve a wide range of soft drinks and alcoholic beverages. Guests looking to explore the local dining scene will find a wealth of restaurants along the beachfront.
The hotel's outdoor pool, a stunning circular swimming pool, is the jewel of the complex. Complete with a children's section and a baby section, the pool area ensures fun for all ages. For adults seeking relaxation, an Adults Only deck featuring Balinese beds is available. In addition, the hotel offers a spacious sun terrace furnished with loungers and parasols.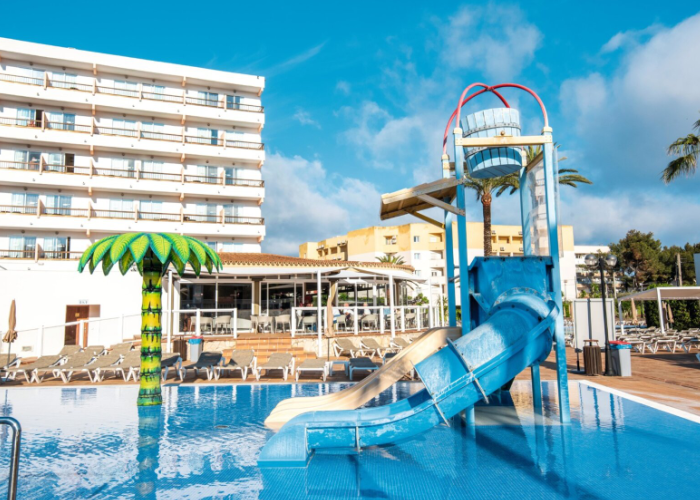 Suneo Caribe, Es Cana
Address: Carrer Pou des Lleó, 8, 07840 Santa Eulària des Riu, Illes Balears, Spain
Perfectly located just moments from the beach and other local attractions, the Suneo Caribe, Es Cana, is a top-tier choice for your next holiday in Ibiza. This hotel, particularly well-suited for families, offers excellent facilities that cater to guests of all ages, making it a delightful retreat for both parents and their children.
Just a short 200m stroll away from the nearest beach, the hotel invites guests to enjoy the sun, sand, and surf at their convenience. Additionally, the hotel's location, 30km away from Ibiza airport, facilitates easy commute for travellers.
Guests have the choice between single and double rooms at the Suneo Caribe. All rooms are tastefully decorated with simplicity and comfort in mind, each equipped with an en-suite bathroom, a shower, hairdryer, air conditioning, and Wi-Fi access. Other room amenities include a telephone, satellite TV, fridge, safety deposit box (at a local charge), and a terrace to enjoy the beautiful Ibiza views.
For food and drink, the hotel's on-site restaurant serves a delightful selection of buffet-style hot and cold dishes, catering to a variety of culinary preferences. Theme nights and special kids buffets also feature in the hotel's dining offerings, adding an element of excitement and variety to mealtimes.
The Suneo Caribe offers an extensive range of sports and entertainment amenities for guests to enjoy. The outdoor pool is a hub of activity where guests can catch some rays and enjoy a refreshing dip. Organized entertainment, including daytime activities, competitions, and professional evening shows, ensure guests never experience a dull moment.
The hotel also houses a games room equipped with billiards, arcade games, and air hockey, catering to diverse recreational preferences. Lastly, but importantly, a designated kids play area ensures the little ones are thoroughly entertained during their stay at this fabulous family-friendly hotel.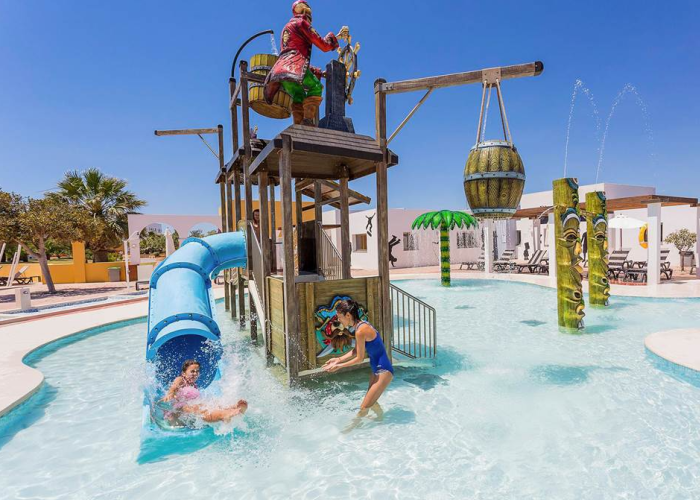 Grand Palladium Palace Ibiza Resort & Spa
Address: Platja d'en Bossa, s/n, 07817 Playa d'en Bossa, Balearic Islands, Spain
Set within extensive grounds along the stunning Playa d'en Bossa, the Grand Palladium Palace Ibiza Resort & Spa represents one of the most captivating all inclusive hotels in Ibiza. A testament to the harmonious blend of modern facilities and natural beauty, the award-winning resort is strategically located right on the seafront and is just 6km away from the vibrant city centre of Ibiza.
The resort's prime location, just a few steps away from the beach, offers easy access to sun, sand, and surf. The hotel's proximity to the airport, only 4km away, makes it an accessible choice for travellers from all corners of the globe.
Offering spacious rooms with awe-inspiring sea, pool, or garden views, the Grand Palladium Palace ensures guests' utmost comfort and relaxation. Each room boasts either two twin beds or a king-sized bed, individually-controlled air conditioning, and a furnished balcony or terrace. Guests can enjoy a luxurious bath in the hydro-massage tub, and make use of a range of amenities, including a fridge, ceiling fan, satellite TV, and an electronic safe deposit box. Additionally, irons and Wi-Fi are available for a local charge, and cots are provided free of charge upon request.
Delight your taste buds with an array of delectable meals at La Sal restaurant, serving breakfast, lunch, and dinner. Offering a diverse buffet of local and international cuisine complemented by show cooking, it provides an enjoyable dining experience. In addition, guests have the option to dine at the a la carte Portofino restaurant, or grab a quick bite at the beach-side snack bar.
As one of the premium all inclusive hotels in Ibiza, Grand Palladium Palace provides a 24-hour all-inclusive food and drink program. Guests can indulge in a selection of locally and internationally-produced alcoholic and non-alcoholic beverages at various hotel venues throughout the day.
Boasting a range of sports and entertainment facilities, the hotel offers an exciting line-up of activities for guests of all ages, making it a child-friendly resort. The complex features a main swimming pool with a children's section, a fitness gym, six tennis courts, volleyball, billiards, and a rich program of daytime and evening entertainment. A mini club with a dedicated pool ensures that the little ones have their share of fun and entertainment.
Be it a family holiday, a romantic getaway, or a solo adventure, Grand Palladium Palace Ibiza Resort & Spa provides an all-encompassing, unforgettable Ibiza experience.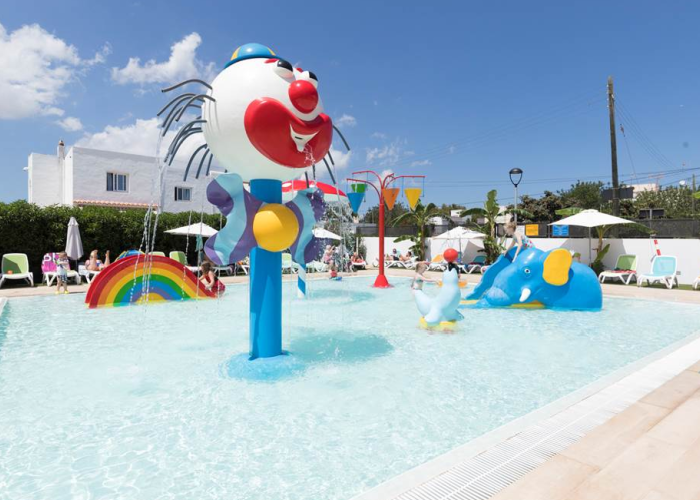 Casa Luis
Address: CT Es Canar KM1, 07840, Illes Balears, Spain
Casa Luis is one of Ibiza's premier luxury family hotels, nestled in the vibrant town of Santa Eulalia in the north-eastern part of the island. Just 800m from the bustling tourist hub and harbour, Casa Luis offers a unique blend of tranquil surroundings and accessibility to local attractions.
Situated just 900m from the beach, this family-friendly hotel provides guests with the perfect setting to experience the sun, sand, and sea. With the Ibiza Airport approximately 25km away, Casa Luis is conveniently located for travellers arriving from any destination.
Designed with family comfort in mind, Casa Luis offers a variety of family suites, including Studios, 1-bedroom, and 2-bedroom apartments. Each room is equipped with modern amenities such as air conditioning, a TV, hairdryer, kitchenette, and a balcony or terrace to take in the beautiful views. Ironing facilities are also provided in each room for added convenience. Please note that pets are not permitted at this hotel and none of the rooms offer wheelchair access.
Offering a delightful gastronomic experience, the main restaurant serves delectable a la carte meals for breakfast, snacks, and dinner, with daily specials to add a dash of culinary surprise. For guests who prefer to enjoy their meals poolside, a snack bar next to the main swimming pools offers a selection of mouth-watering tapas, pizzas, and sharing plates, paired with a variety of wines and cocktails. The Martini Bar, located next to the adult-only pool, serves an array of refreshing cocktails to complete the perfect poolside lounging experience.
Casa Luis truly shines as a child-friendly resort, boasting three outdoor pools, including a separate children's paddling area. Older children and adults can engage in tennis, use the solarium, or enjoy stunning views of the Mediterranean Sea from the new adults-only rooftop pool. In addition to the pools, Casa Luis features play areas and a fully equipped gym. For guests seeking relaxation, massages and beauty services are available on-site at an extra charge.
The hotel's entertainment options cater to both young guests and the young at heart. A kid's club and playground ensure the little ones are well-entertained, while the older children and adults can enjoy a variety of daytime and night-time entertainment options.
With a 24-hour reception desk, free WiFi, a safe, a currency exchange facility, lifts, a café, a bar, a small supermarket, and a TV room, Casa Luis promises a memorable and luxurious stay for the entire family.
Conclusion
These hotels offer a wide range of services and amenities that are designed to ensure an unforgettable holiday experience for everyone. With their impressive array of facilities, including outdoor pools, play areas, family suites, and restaurants, they have everything to keep both children and adults entertained throughout their stay.
Whether you're planning a holiday with your families, seeking a romantic getaway, or a solo adventure, you will find what you're looking for in these exceptional Ibiza hotels. Their spacious rooms, many of which offer stunning sea views, are equipped with all the comforts of home, providing an ideal retreat after a day spent exploring the island or lounging by the pool.
Whether it's the luxury of the Grand Palladium Palace Ibiza Resort & Spa, the family-friendly atmosphere of Casa Luis, or the elegant simplicity of the Suneo Caribe and Leonardo Royal Hotel, Ibiza offers a plethora of options to suit every traveller's needs.
They are indeed some of the best family hotels in Ibiza, ensuring a comfortable, enjoyable, and truly memorable stay. Choose any of these hotels for your next holiday, and let the beautiful island of Ibiza become your home away from home.