The Best All Inclusive Hotels in Ibiza (Perfect for Families) in 2024
Welcome to our blog post where we'll guide you through the best all inclusive hotels in Ibiza. This Mediterranean gem, famed for its vibrant beach parties, offers a fantastic range of all inclusive hotels that make Ibiza holidays unforgettable.
With this guide, you won't have to worry about missing out on any luxuries during your stay. These all inclusive hotels in Ibiza provide everything from poolside relaxation by stunning swimming pools to culinary delights, all wrapped up in one price.
So whether you're visiting for the lively scene or for the tranquillity of the seaside, we have handpicked the best inclusive hotels for you to make the most of your all inclusive Ibiza holidays. Stay tuned and get ready to discover your perfect stay on this beautiful island.
Best All inclusive Hotels in Ibiza
Hotel Vibra Algarb
Invisa Figueral Resort
Sirenis Hotel Club Siesta
Azuline Hotel Bergantin
Grand Palladium White Island Resort & Spa
Grand Palladium Palace Ibiza Resort & Spa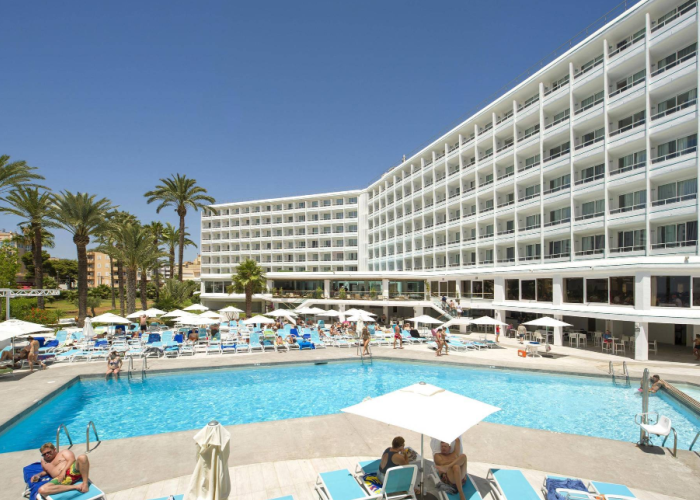 Hotel Vibra Algarb
Address: Av. Pere Matutes Noguera, 107, 07800 Eivissa, Illes Balears, Spain
The Hotel Vibra Algarb is an oasis of fun and relaxation, perfectly nestled in the vibrant heart of Playa d'en Bossa. Known for its superb amenities and excellent service, this delightful hotel sits comfortably among the best all inclusive hotels in Ibiza.
Just a stone's throw from the glittering Mediterranean Sea, Hotel Vibra Algarb provides easy access to some of the island's finest beaches. Bask in the sun, take a dip in the clear blue water, or participate in the numerous water sports on offer – the choice is yours.
When you're not soaking up the sun, you can head to nearby Ibiza Town. This bustling hub is home to a rich historical heritage, fashionable boutiques, exquisite restaurants, and a dynamic nightlife scene. Perfect for a day trip, you can experience the unique charm and liveliness that this world-famous town has to offer.
Planning a holiday with kids? Hotel Vibra Algarb has got you covered. With a dedicated children's pool and a fun-packed kids' club offering a variety of games and activities, your little ones will have plenty to keep them entertained. In fact, this hotel is a fantastic choice for families, ensuring everyone, young and old, gets the most out of their Ibiza experience.
So, whether you're a party-goer, a beach lover, or a family looking for a memorable getaway, Hotel Vibra Algarb offers an all-inclusive Ibiza holiday that caters to everyone's needs and desires.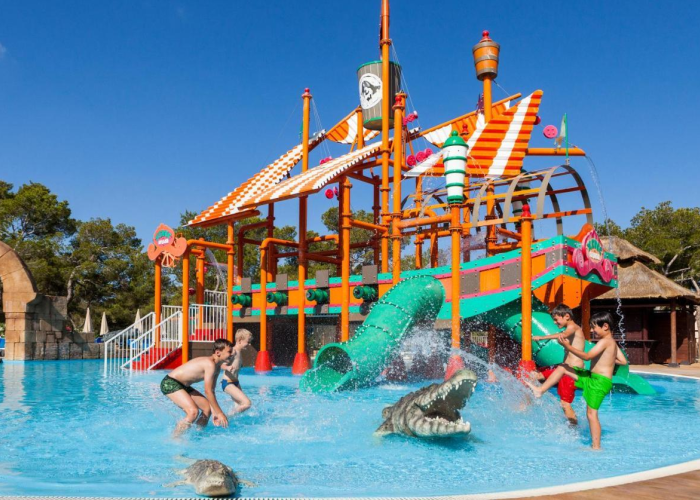 Invisa Figueral Resort
Address: Playa de Es Figueral s/n, 07840 Es Figueral, Balearic Islands, Spain
Immerse yourself in the luxurious charm of the Invisa Figueral Resort, a premier all inclusive hotel located on the magnificent island of Ibiza. Nestled in the serene surroundings of Es Figueral, this resort is a heavenly retreat for those seeking a blissful beach holiday.
Just a minutes walk from the stunning Es Figueral beach, the hotel boasts an enviable location. Feel the warm sand beneath your feet and the refreshing Mediterranean breeze in your hair as you soak up the sun, or enjoy the cool, crystalline waters for an invigorating swim.
But the magic of the Invisa Figueral Resort extends beyond its proximity to the beach. This all-inclusive resort is rich in amenities designed to provide an unforgettable holiday experience. With lush, tropical gardens, multiple swimming pools, and a range of gourmet dining options, every moment spent here is a celebration of leisure and relaxation.
And if you're traveling with family, you're in for a treat. The resort hosts a myriad of family attractions, including a pirate-themed kids' water park, mini clubs for different age groups, and various sport activities. Each day spent here unveils a new adventure, keeping the little ones entertained and adults at ease.
So, if you're searching for a dreamy escape that blends relaxation with recreation, look no further than the Invisa Figueral Resort. With its prime location and superior amenities, it sets the benchmark for what an all-inclusive beach holiday in Ibiza should be.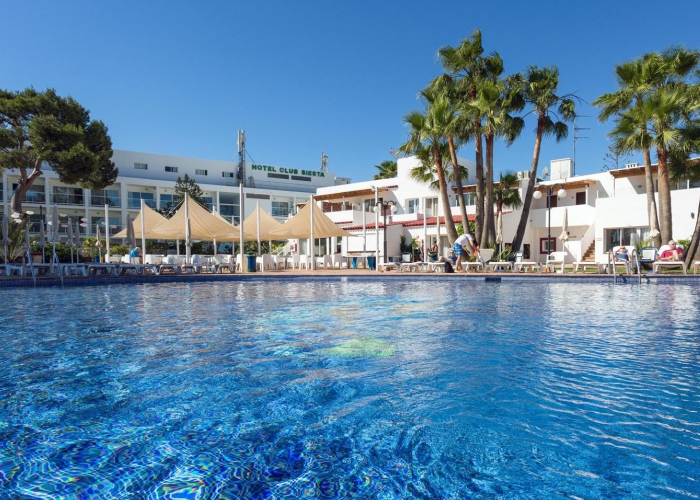 Sirenis Hotel Club Siesta
Address: Carrer de les Margalides, 21, 07840 Santa Eulalia del Río, Illes Balears, Spain
Unwind and relax in the peaceful ambiance of the Sirenis Hotel Club Siesta, a haven of tranquillity in Santa Eulalia, Ibiza. Known for its excellent service and delightful accommodation, this hotel is a true gem, especially for those seeking a budget-friendly holiday.
Surrounded by lush Mediterranean greenery, the hotel offers a serene atmosphere that sets the stage for ultimate relaxation. The inviting pool is the perfect spot to soak up the sun or enjoy a refreshing dip. Whether you prefer lounging poolside with a book or engaging in an energetic splash, this beautiful hotel caters to all moods and preferences.
The Sirenis Hotel Club Siesta is not just about relaxation, though. It also takes great pride in its culinary offerings. Each day, guests can look forward to a sumptuous dinner with an array of local and international dishes, adding a delightful gastronomic touch to their stay.
Furthermore, the hotel is conveniently located within easy reach of Santa Eulalia's town centre and beach, opening up a world of exploration for the more adventurous guest. The vibrant nightlife, local markets, and beautiful beaches of Santa Eulalia are just a short stroll away.
The Sirenis Hotel Club Siesta combines comfort and affordability, making it an excellent choice for travellers seeking a stress-free, memorable holiday in the heart of Ibiza.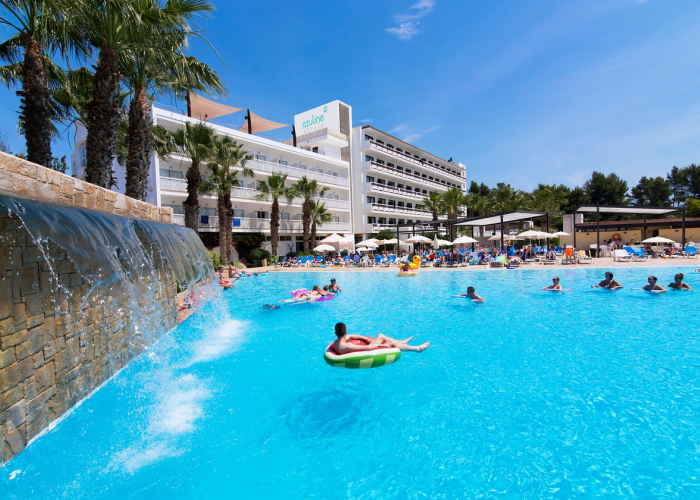 Azuline Hotel Bergantin
Address: Carrer d'Albacete, 5, 7, 07820, Balearic Islands, Spain
Discover a paradise of sun, sea, and sand at the Azuline Hotel Bergantin, your perfect destination for an unforgettable all inclusive holiday. This charming hotel is nestled in the vibrant town of San Antonio, one of Ibiza's most celebrated resorts.
Situated just a stone's throw away from the golden beaches that this beautiful island is famous for, the hotel provides an unmatched setting for both relaxation and adventure. Whether you want to soak in the sun on the sandy shore or dive into the crystal-clear waters of the Mediterranean, your perfect day at the beach is within easy reach.
At the Azuline Hotel Bergantin, every day unfolds at your pace. The laid-back atmosphere lets you unwind and de-stress, while the plethora of activities available ensure there's never a dull moment.
One of the highlights of your stay will undoubtedly be the hotel's culinary offerings. From the hearty breakfast to the sumptuous lunch and dinner buffets featuring local and international cuisines, you're in for a treat. What's more, an array of drinks are also included in your package, perfect for sipping by the pool or toasting to the stunning Ibiza sunsets.
So if you're dreaming of an idyllic getaway that offers a winning blend of relaxation, entertainment, and superb value, look no further than the Azuline Hotel Bergantin for your next all inclusive holiday in Ibiza.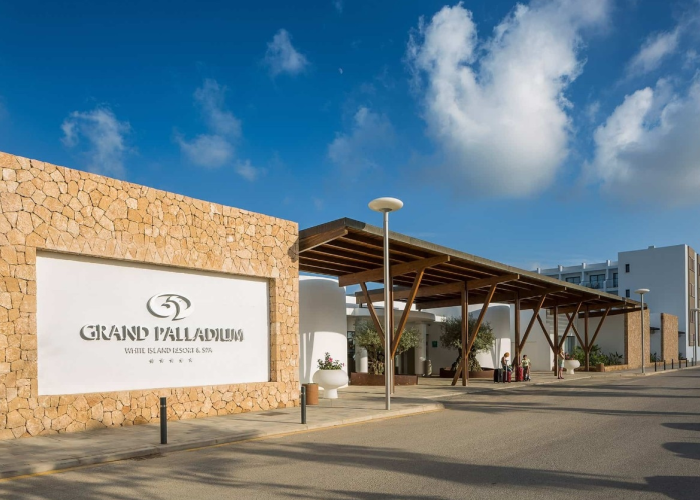 Grand Palladium White Island Resort & Spa
Address: Calle Ciudad de Palma, Platja d'en Bossa, s/n, 07817, Balearic Islands, Spain
Experience an extraordinary getaway at the Grand Palladium White Island Resort & Spa, a pinnacle of luxury and comfort among Ibiza hotels. This exceptional resort offers an indulgent experience, making it an ideal destination for memorable holidays.
Perfect for families, this hotel offers a variety of child-friendly amenities, including a kids' club and a dedicated children's pool, ensuring your little ones are entertained throughout the stay. The fun-filled activities and child-friendly spaces make every trip an adventure for the young ones.
The Grand Palladium White Island Resort & Spa boasts an array of spacious, well-appointed rooms, all designed with a blend of modern luxury and comfort in mind. Whether you choose a standard room or opt for a suite, you're guaranteed to enjoy the serene ambiance and top-notch amenities.
But the pleasures of this resort aren't confined to its rooms. The gastronomical journey offered here is nothing short of spectacular. The all-inclusive package includes a variety of delicious meals and a wide range of drinks to choose from. Whether you crave local delicacies or international cuisine, the dining options will satisfy even the most discerning palate.
With its impressive amenities, excellent service, and stunning location, the Grand Palladium White Island Resort & Spa offers an idyllic escape that goes above and beyond the typical Ibiza hotel experience. Come and immerse yourself in the true essence of luxury for your next holiday.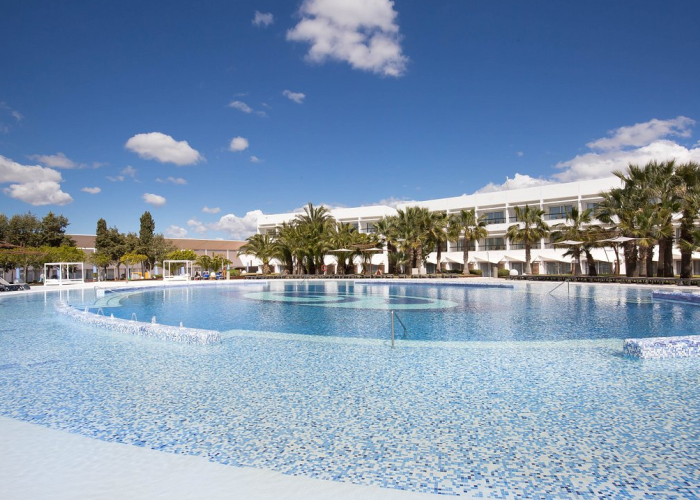 Grand Palladium Palace Ibiza Resort & Spa
Address: Platja d'en Bossa, s/n, 07817 Playa d'en Bossa, Balearic Islands, Spain
The Grand Palladium Palace Ibiza Resort & Spa, a perfect blend of luxury and entertainment that transforms all inclusive holidays to Ibiza into an unforgettable experience. This standout hotel is a stunning getaway in the heart of Playa d'en Bossa, offering an indulgent mix of relaxation, fun, and luxury.
Ideal for a break with kids, the resort offers a range of family-friendly facilities, from a dedicated kids' club to a children's pool, ensuring the little ones have as much fun as the adults. With an array of activities and games to choose from, your family holiday will be brimming with excitement and laughter.
But the Grand Palladium Palace Ibiza Resort & Spa is not just about fun and games. It is also a sanctuary where you can unwind and relax. The resort's tranquil spa offers a range of rejuvenating treatments, while the sparkling pools provide a perfect setting for leisurely dips or lounging in the sun.
After a day of relaxation or adventure, you can head to the resort's bar. From classic cocktails to a selection of local and international drinks, the bar is the perfect spot to unwind and recount the day's highlights.
The Grand Palladium Palace Ibiza Resort & Spa embodies the best of Ibiza – a place where luxury, comfort, and fun converge, offering an all-inclusive holiday that's truly unparalleled. Come and discover a world of pleasure and relaxation at this exceptional hotel.
Conclusion
all inclusive hotels in Ibiza offer the perfect solution for a hassle-free getaway. These all inclusive hotels provide everything you need, from comfy lounge areas to direct access to the sun-kissed beach.
Choosing all inclusive holidays to Ibiza means enjoying an array of amenities without having to worry about any extra costs. It's the ideal way to enjoy your holidays, whether you're seeking relaxation, entertainment, or both.
Overall, Ibiza proves to be an excellent destination with its wide selection of resorts including some with Water Parks!