17 Bluebell Woods in the UK and Ireland to Visit in 2024
There's something special about bluebells in England, and the glorious sight of bluebell woods as these natural beauties are in full flower. There's not much that can compare with a stroll through a bluebell forest as wave after wave of stunning colour hits you.
The only downside is that bluebell season doesn't last long. You only have a matter of weeks to find bluebells in woods before they start to fade. The good news is that these bluebell woods are easy to find.
No matter where you are in the UK, you have the opportunity to enjoy all the beauty that's o offer. If you want to learn more about the most stunning sites in the country, then keep on reading.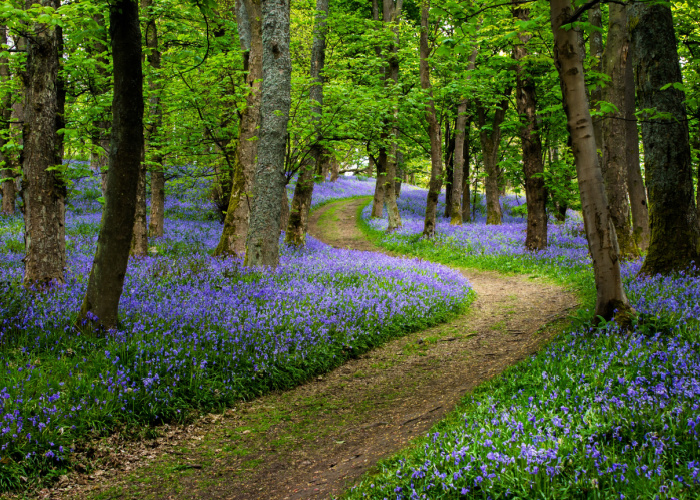 Are there different types of bluebells in the UK?
When it comes to bluebells woods, the UK is more than just a little fortunate. That's because around half of the world's bluebells are here and they're extremely rare in other parts of the world.
In the UK, it's the native blue variety that we get to enjoy. With its scientific name being Hyacinthoides non-scripta, this type of bluebell has a delicate scent, white creamy pollen and curly-edged flowers
The UK also plays host to the bolder Spanish bluebell (Hyacinthoides hispanica). This bluebell has no scent and is much darker in colour. This species is seen as aggressive and invasive. It cross-pollinates with the native species and poses a threat to its long-term survival.
When is bluebell season in the UK?
As we've seen, if you want to enjoy bluebell walks forest in the UK, you need to be relatively fast. That's because the window that you have to enjoy these delights in full bloom, is limited to just a few weeks.
Generally speaking, that window runs from mid-April until mid-May. This will vary a little each year depending on the weather that the country is experiencing.
It will usually be those in the south of the country who get to enjoy bluebell woods first. As the month goes on, they will spread further north, allowing the whole of the country to marvel at their beauty.
If you want to see bluebells at their best, then your best to take your forest walk either early in the morning or leave it just before sunset.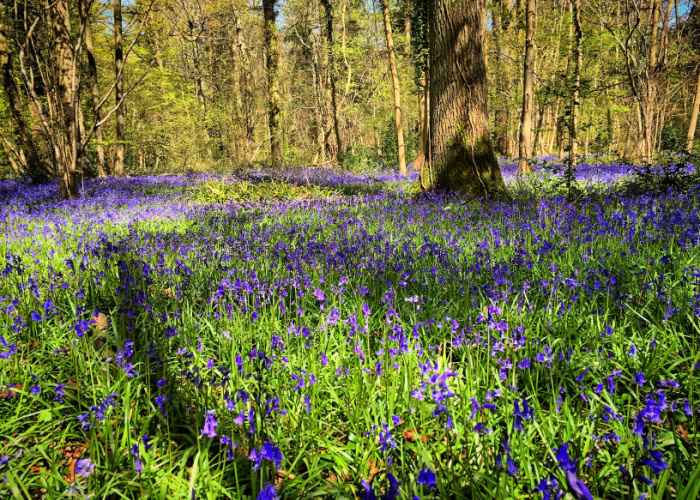 The Wildlife and Countryside Act (1981)
Before you go racing to one of the top bluebell spots in the UK, it's worth pausing for a moment and considering the law. You may not be aware, but bluebells are protected by law and this means that you could find yourself with a hefty fine or, at the extreme, a spell in prison.
If you take a look at the 1981 Wildlife and Countryside Act, you'll find that it's picking bluebells that will land you on the wrong side of the law. The law states that both visitors and landowners are prohibited from uprooting bluebells. So, while you may want to take some of these with you to brighten up your home, this isn't the wisest thing to do.
Part of the reason that bluebell woods are protected is to do with how they developed. As perennials bluebells come back every year, but it can take up to 7 years before they start to flower. This means that if bluebells are removed or damaged, it can years to replace them and for a bluebell forest to recover.
It's also worth bearing in mind that bluebells are extremely delicate. All it takes is a careless walk and you trampling the leaves to kill them off for the season, if not for good. Of course, we want you to be able to enjoy the beauty that bluebells offer, but it's important that you take care too.
Bluebell Woods Near Me:
Ever wondered "Where are Bluebell woods near me?" Well there's plenty of Bluebell Woods across the UK & Ireland which the public can visit!
Let's take a look at some of the best places to visit this April and May.
Scotland
Northern Ireland
North of England
East of England
Central England
Southeast England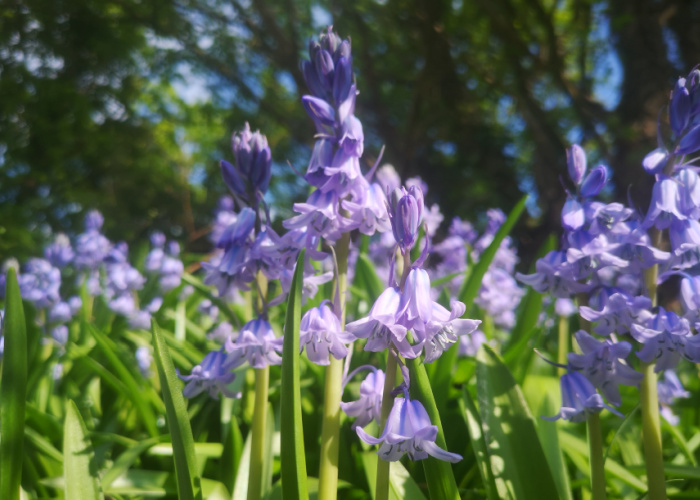 Bluebells woods and displays in Scotland
As we said earlier, the bluebell season gets underway in the south and gradually grows north. That means that bluebells in Scotland tend to appear a little later than they do elsewhere in the UK.
If you want bluebells in woods, you may find Scotland an adventure, as many of these are in rugged locations that take a little work to access.
Here are the best places to visit north of the border:
Glen Finglas, Loch Lomond and the Trossachs National Park:
When it comes to bluebell woods in Scotland, this area provides the largest. As well as the bluebells to appreciate, there is also breath-taking scenery with a stunning landscape to enjoy.
While there are bluebells in woods here, you can find even more by taking a wander around mountains and lochs.
The best place to start your bluebell walk has to be the visitor centre that can be found at Lendrick Hill. That's because you'll find a host of information about the area and you'll be better placed to plan your bluebell walk.
Urquhart Bay, Drumnadrochit:
If you're wanting bluebell walks, forest surroundings and stunning scenery then Urquhart Bay is a must. Locate close to Loch Ness, this is often referred to as being the best surviving ancient woodland in the whole of Europe.
What adds to the beauty here is the fact that there are tree species that all start to blossom at the same time that bluebells are appearing.
If you choose to follow the path that takes you through the woodland, you'll find that it takes you in a figure of eight. Just be careful though, as the entire path is not always clear and you also have the River Enrick to contend with at one end of the woods.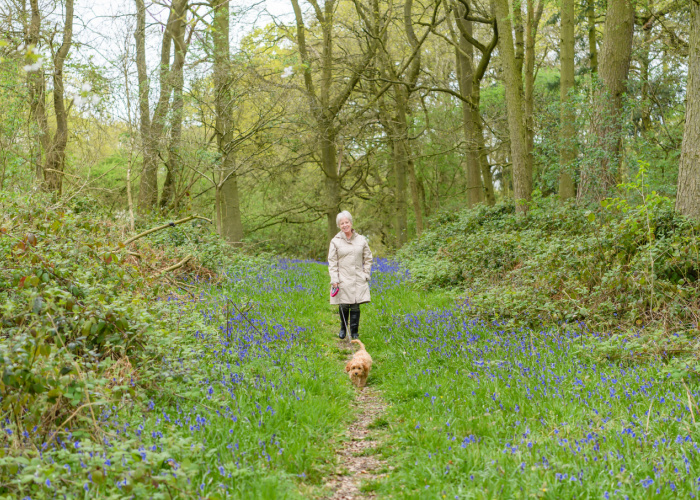 Bluebell Woods in Northern Ireland
Bluebell woods in Northern Ireland are truly a thing of beauty. You can enjoy them in a range of locations such as forests and clifftops.
You'll find that bluebells hit their prime here at about the same time as they do in central England and here's a look at the best places to find them:
Tollymore Forest Park, County Down:
With its Bluebell woodland walks, forest settings and breathtaking mountains, Tollymore Forest Park is a great location for those looking to enjoy bluebell woods in Northern Ireland. The park sits at the foot of the Mourne Mountains and has views to die for as you look out to the Irish Sea.
Once you've had time to enjoy all that the forest has to offer, there's more to experience here too. If you're really taken with the area, and we think that you will be, there's also a campsite that's open the whole year through.
Portglenone Forest, County Antrim:
What's on offer here is quite spectacular. It's a stunning bluebell walk that's situated on the grounds of an 18th-century mansion. The ancient woodland here has been compared to what can be found in the New Forest, Hampshire, and people are willing to travel from miles around to enjoy the annual bluebell display.
Alongside bluebells, trails will also see you coming across the likes of wood anemones and wild garlic. This is a location that we thoroughly recommend.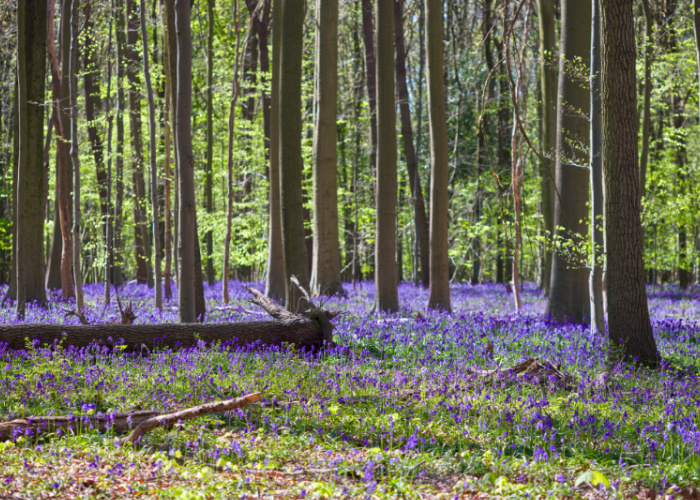 Bluebell Woods in Wales
On the hunt for bluebells, Wales provides some of the highlights of the whole of the UK. You'll find bluebell woods far and wide here including open moorland and cliff tops too. Here's a look at the best bluebell forest locations in Wales:
Skomer Island, Pembrokeshire:
If you've heard of Skomer Island, there's a good chance that you associate it with puffins and other sea birds. However, as well as amazing birds, there's also an amazing show of bluebells to enjoy here and the display is nothing short of being magical.
If you want to visit Skomer Island, it means a short boat trip that you'll need to book in advance. It's certainly worth the effort though when you see that the entire island is blanketed by bluebells. Yes, the puffins for which the island is famed are special, but these bluebells are really something else.
Coedy y Felin, Flintshire:
This nature reserve is a little different to others that you may come across. It's actually been built along an old railway line and efforts have been made to ensure that the area can be accessed by everyone. There are easy access paths for those who may be limited but there are also plenty of rough paths for those who are seeking more.
If you follow the main path, along the railway line, you'll find yourself going straight through the bluebell area before arriving at a picnic area. This area will see you surrounded by other, equally as beautiful, flowers.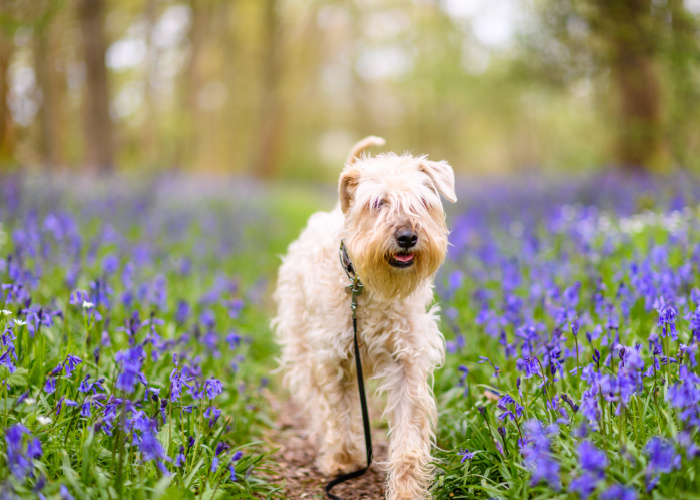 Bluebell Woods in the North of England
As we cross over into England, we thought that we'd start in the north of the country. With east and west coastlines, open moorland and sea cliffs, you'll find that there are a host of beautiful bluebell forests to enjoy. Here's a look at those that we think are the best:
Roseberry Topping, North Yorkshire:
The bluebell woods of Newton are the place to head for the best bluebell display in Yorkshire. Located in the Roseberry Topping area, this is an area that all bluebell fans are sure to enjoy.
If you can take the 320-metre climb to the top, standing on the top of Roseberry Topping is worth all of the effort. That's because you get to look down on a beautiful blanket of wild flowers, that you'll struggle to find anywhere else.
Loughrigg Fell, Cumbria:
A short walk from Ambleside, Loughrigg Fell is the best area in Cumbria where you can enjoy bluebells walks, forest paths and fresh air. As you follow the forest path, you soon find yourself in Rydal Cave which is an old slate quarry.
If you're looking for an enjoyable walk, you can take a 6-mile circular route that will take you across the fell, to the cave and then into Ambleside. You may then find yourself tempted to try some of the higher peaks that are nearby.
Muncaster Castle and Gardens:
Situated in the northwest of England, this is an area that offers much more than bluebell woods and walks. Here, you'll find a castle that was built on Roman remains back in the 13th century. Reportedly haunted, the castle has been owned by the same family since 1208.
The castle is surrounded by stunning woodland as well as gardens of Georgian design. The bluebell walk itself sees you above the castle, exploring just part of the 77 acres of woodland.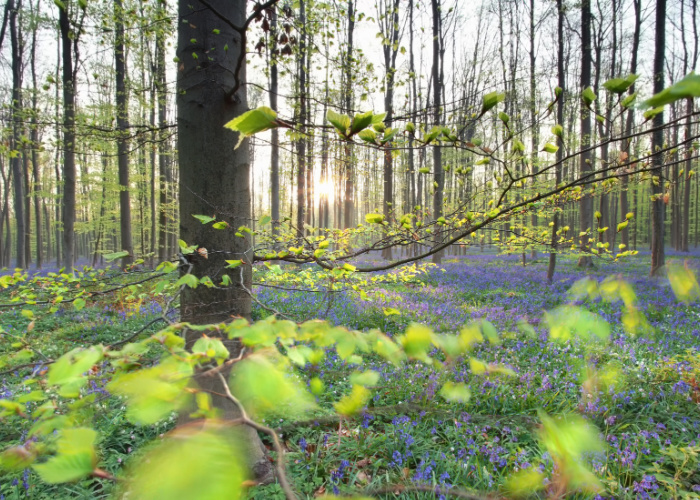 Bluebell Woods in the East of England
East Anglia is another area where you can find bluebells in England. You'll find that some of these are in coastal locations, while the majority are set inland. Here's a look at the ones that are well worth a visit:
Blickling Estate, Norfolk:
Famous as being the birthplace of Anne Boleyn, wife of Henry VIII, Blickling Estate is also an area that gives you the best bluebell display in Norfolk. The Temple Walk and the northern part of the Great Wood provide the best views and it's also worth exploring the historic hall while you're there.
Brampton Wood, Cambridgeshire:
If you want bluebell walks, forest and history this 900-year-old woodland could be the perfect site. The woodland undergoes a truly magnificent transformation as bluebell season takes hold and this is the perfect location to appreciate the real beauty of these flowers.
There is a set path to follow on your walk, but don't worry, this doesn't mean that you'll be missing out by not wandering – the official path sees you taking in literally thousands of bluebells on your walk.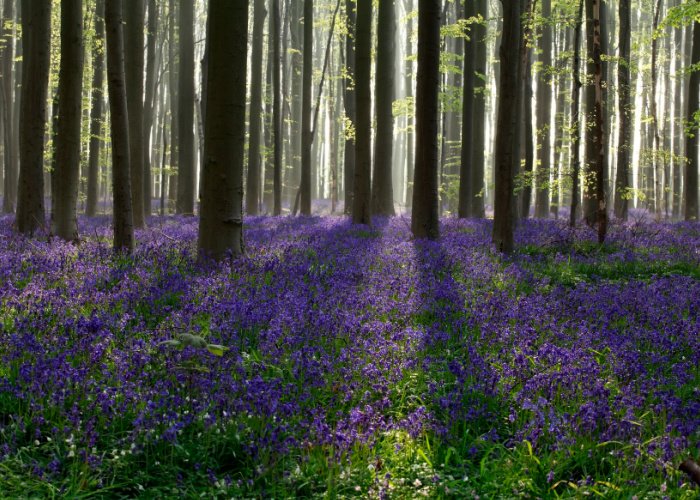 Bluebell Woods in Central England
While looking for bluebells in England, the central part of the country is well worth exploring.  While other areas have bluebells growing in a variety of settings, central England is truly about bluebell woods. Let's take a look at the best:
Everdon Stubbs, Northamptonshire:
At Everdon Stubbs, you'll find an amazing display of bluebells which are accompanied by some of the rarest daffodils found in the UK. There are plenty of other spring flowers to enjoy too.
Steeped in history, this is also the site of a Saxon burial site. That means that a walk here also has the potential for new discoveries and this all adds to the draw of the area.
Beaconwood and Winsel Woods, Worcestershire:
Nestling on the edge of the National Trust Chadwich Estate, there are trees here that date back around 250 years. While there are plenty of bluebells to enjoy, care should be taken as you explore: there are some steep inclines and areas that become extremely slippery.
As you lose yourself in the beautiful surroundings, it's hard to believe that the M5 motorway is quite so close. Also nearby is another bluebell site: Lickey Hills County Park.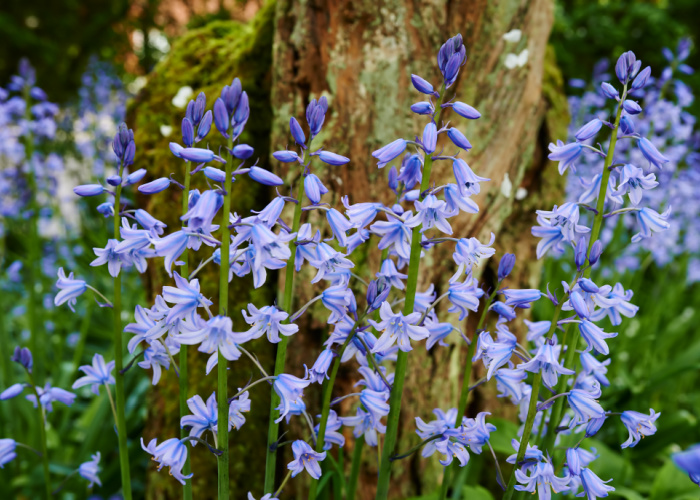 Bluebell Woods in Southeast England
If you want to enjoy bluebells away from London, there's more than one bluebell forest in the southeast of the country. Here are the ones that we highly recommend:
Brede High Woods, East Sussex:
This is one of the best places to see bluebells and woods in the southeast of England. There are level paths and trails that make exploring the area a joy and your exploration will soon be rewarded. In no time at all, you'll be seeing blankets of bluebells which make a truly stunning site.
Micheldever Woods, Hampshire:
This bluebell wood stretches along the M3 motorway and can be spotted with ease from the road. While the New Forest is closer and much more famous, the bluebells at Micheldever Woods are much more accessible, and it's much less crowded.
You'll find that the bluebells feature throughout the woods and go as far as the fields that surround the edges.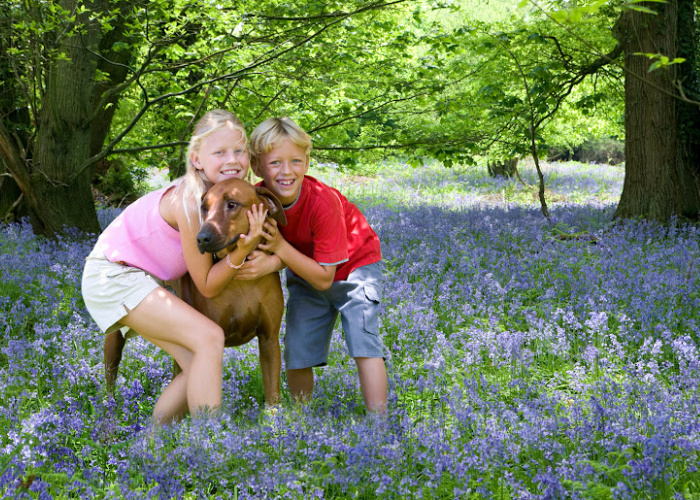 Bluebell Woods in Southwest England
This is part of the UK that tends to be the warmest. This means that you'll find the first indications of bluebell season here as they benefit from the warmth and extra rain.
If you want to know where to find a bluebell forest in the southeast, here are our suggestions:
Cheddar Gorge, Somerset:
The deepest gorge in England and an area that has many reasons that make it worth a visit. If you take a wander around the village, you'll soon notice that there is a small showing of bluebells. However, if you want to really enjoy what's offered here, you need to walk a little further.
The best bluebell display can be found by heading up the Mendip Hills. Situated at the top of the gorge, the display of wildflowers here is second to none.
Kingston Lacy Estate, Dorset:
If you're wanting to enjoy bluebell woods in Dorset, then you should be heading to Kingston Lacy, near Wimborne. The watch out here is that it gets extremely busy in the car park, but as you start to explore the area you soon appreciate why.
As there are so many visitors here, extra steps have been taken to keep the bluebells safe from trampling feet. This means that there are now set walkways to stick to but these still allow for some wonderful views.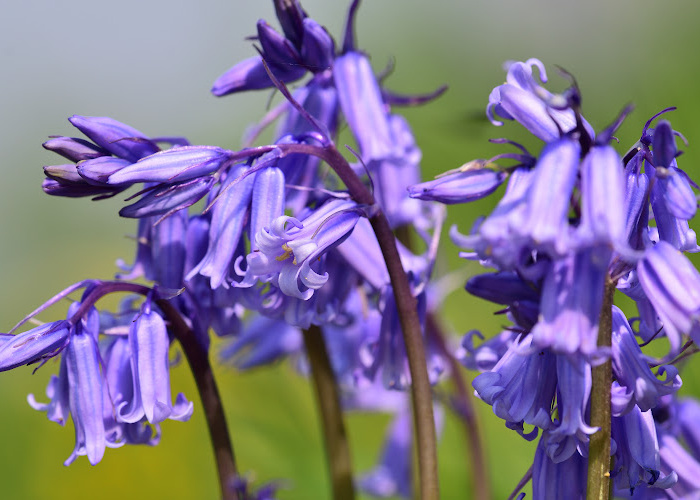 Final Thoughts
Bluebell woods in England, Scotland and Wales are an absolute marvel! These gorgeous displays of bluebells in the woods are a stunning display of Mother Nature's beauty and creativity.
These beautiful bluebell forests are not just a visual delight, but they also offer a sense of calm and serenity that is hard to come by in today's fast-paced world.
If you're looking for a way to escape the chaos and immerse yourself in the beauty of nature, these bluebell woods are the perfect destination for you!