Your Ultimate Guide to Best Cheap Ibiza Hotels from £50 per night
Welcome to our guide on the best cheap hotels in Ibiza. If you're planning a trip and want to save on accommodation, this post is for you. We'll cover everything from family hotels to the best budget stays in the buzzing Ibiza city centre and the lively town of San Antonio.
Read on to discover the most popular hotels that combine comfort, location, and affordability.
Cheap Hotels in Ibiza:
Del Rey Apartments
Ses Savines
Hotel Argos
Simbad Hotel
Suitehotel S'Argamassa Palace
Hotel Algarb
Apartamentos Tivoli
Balansat Resort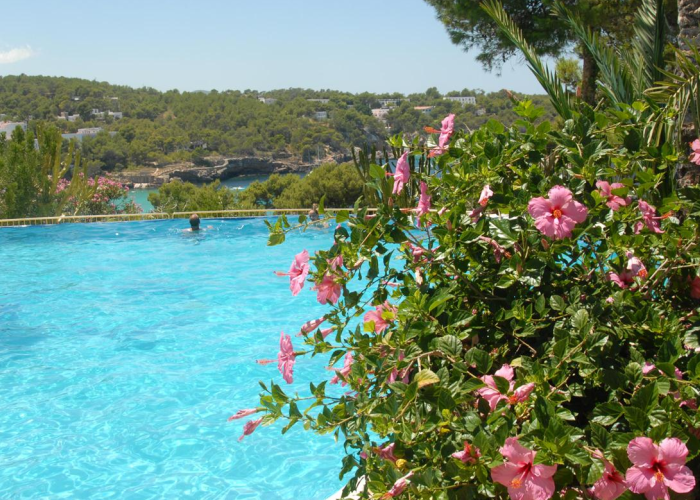 Del Rey Apartments
Address: Ctra. Vénda de Portinatx, 62, 66, 07810 San Juan Bautista, Illes Balears, Spain
Immerse yourself in the serene beauty of Portinatx bay at Del Rey Apartments, a delightful hotel in Ibiza. Ideally positioned for a truly relaxing holiday, this accommodation lets guests fully experience the tranquillity of island life.
With its spacious rooms equipped with all the essentials, Del Rey Apartments has been designed with your comfort in mind. Each apartment provides ample room for you to relax and unwind after a day of exploring or soaking up the sun.
Speaking of soaking up the sun, the hotel boasts a pool area complete with sun loungers, perfect for those lazy afternoons under the Ibiza sun. Enjoy the stunning view of the bay as you bask in the warm rays. Del Rey Apartments captures the essence of a laid-back holiday, making it a top choice for those seeking a break from the daily hustle and bustle.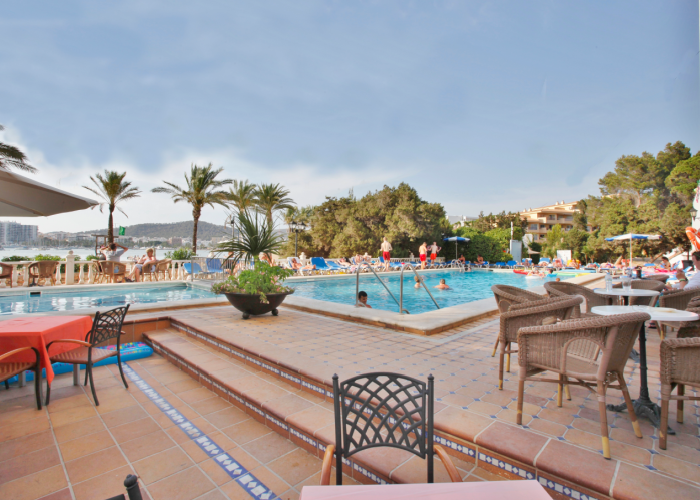 Ses Savines
Address: Avinguda del Doctor Fleming, 22, 07820 Sant Antoni de Portmany, Illes Balears, Spain
Ses Savines is one of the best Ibiza hotels for travellers on a budget and a veritable treasure nestled in the vibrant town of San Antonio. This charming hotel beautifully blends comfort and convenience, offering guests a memorable stay in one of the most exciting hotels in Ibiza.
Situated just a stone's throw away from a gorgeous sandy beach, Ses Savines allows guests to embrace the seafront lifestyle. Wake up to the soothing sounds of the sea and step onto soft sands for a refreshing morning stroll. Spend your days basking in the warm sunshine or diving into the turquoise waters for a swim.
Whether you're seeking the lively energy of San Antonio or the tranquillity of the beach, Ses Savines promises an idyllic holiday, delivering the essence of Ibiza right to your doorstep.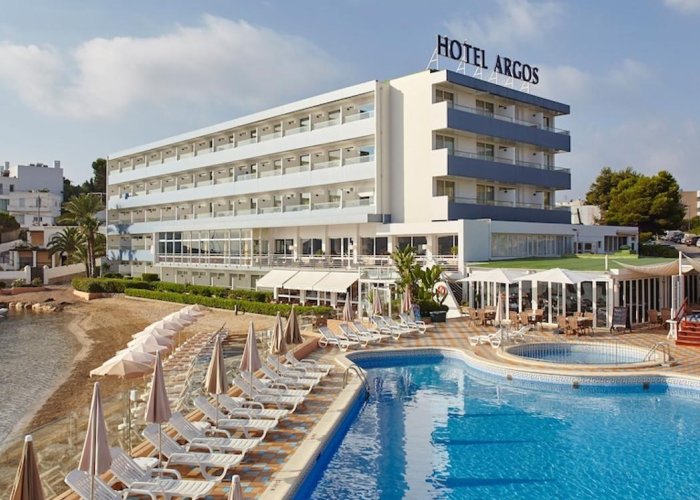 Hotel Argos
Address: Playa de Talamanca, Carrer de s'Illa Plana, 07800 Ibiza, Balearic Islands, Spain
Hotel Argos, a standout among hotels in Ibiza, earning great reviews for its unbeatable service and quality accommodations. This family-run establishment delivers a personal touch, ensuring each guest feels right at home.
As an ideal hotel for travellers looking to explore the vibrancy of Ibiza, Hotel Argos offers close proximity to the city centre and beach. Step out and you're just minutes away from the bustling nightlife, eclectic dining scene, and beautiful sandy beaches.
Enjoy the perfect blend of comfort, convenience, and hospitality at Hotel Argos, a gem that continually ranks among top hotels on the island. Experience Ibiza in the best way possible with this excellent choice of a hotel in Ibiza.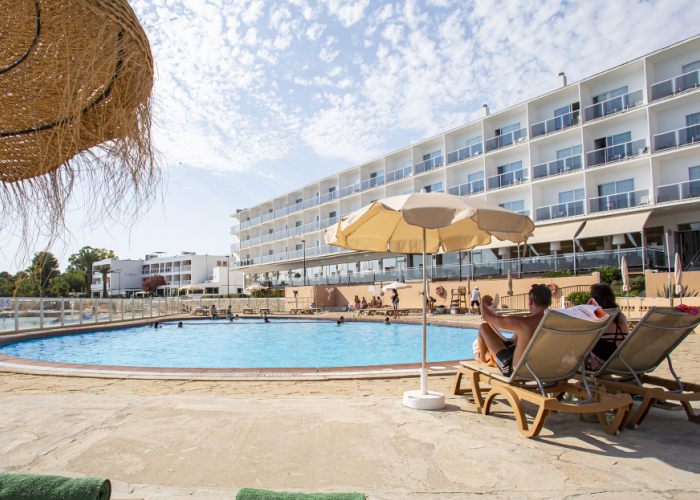 Simbad Hotel
Address: C/ de ses Figueres, 22, 07800 Cap Martinet, Illes Balears, Spain
The Simbad Hotel is a notable entrant in the world of Ibiza hotels. This accommodation offers a brilliant mix of comfort, location, and amenities, positioning it as a top choice among the hotels in Ibiza.
The hotel boasts a beautiful swimming pool, perfect for a refreshing dip or a relaxing day basking in the Ibiza sun. Whether you prefer to swim laps, lounge poolside with a book, or simply take in the delightful surroundings, the pool area offers a slice of paradise for all guests.
Location-wise, Simbad Hotel is strategically situated close to the vibrant Ibiza town, with its captivating nightlife, eclectic shopping, and diverse food scene. This makes it an excellent base for exploring all the exciting experiences that Ibiza has to offer.
Embark on a memorable journey with Simbad Hotel, and get ready to experience the best of Ibiza!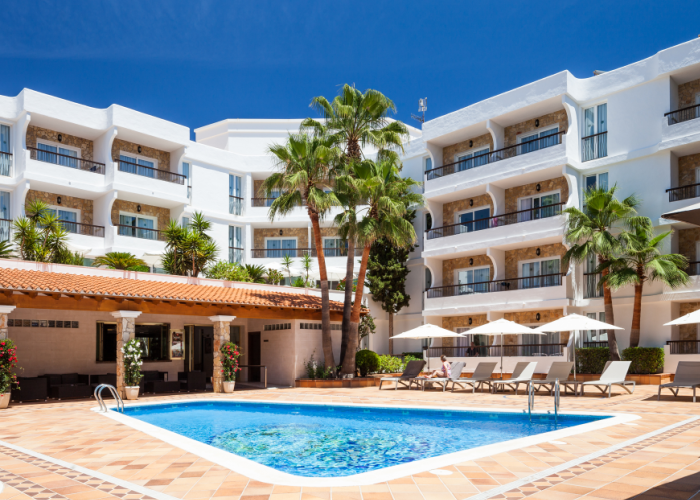 Suitehotel S'Argamassa Palace
Address: Avinguda de s'Argamassa, 82, 07840 Santa Eulària des Riu, Illes Balears, Spain
Suitehotel S'Argamassa Palace, a standout in cheap hotels on Ibiza that doesn't compromise on quality or service. Situated on the beautiful island, this accommodation delivers top-notch comfort and fantastic amenities at an unbeatable price.
Guests can enjoy a large swimming pool, ideal for refreshing swims, lounging in the sun, or enjoying poolside relaxation. Not to be overlooked is the children's pool, a delightful area specifically designed for the little ones to splash and play safely while parents relax.
Praised for its great service, the staff at Suitehotel S'Argamassa Palace go above and beyond to ensure guests have an exceptional stay. Their attention to detail and warm hospitality will make you feel welcome from the moment you arrive.
Whether you're seeking a cost-effective holiday stay or a family-friendly resort, Suitehotel S'Argamassa Palace ticks all the boxes. Experience the best of Ibiza without breaking the bank at this wonderful hotel.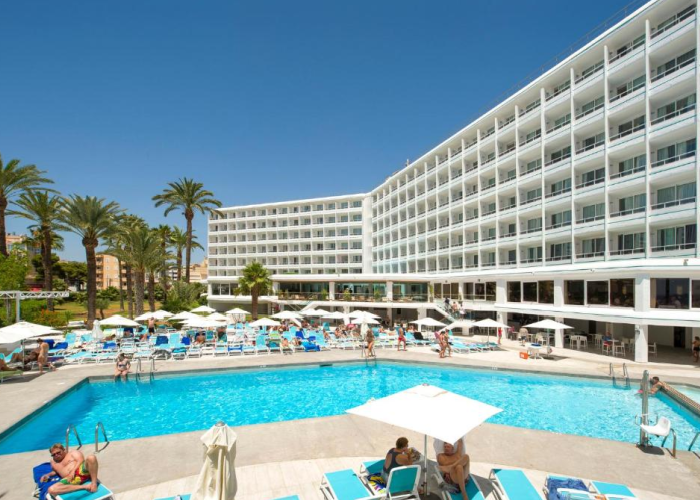 Hotel Algarb
Address: Av. Pere Matutes Noguera, 107, 07800 Eivissa, Illes Balears, Spain
Hotel Algarb is a standout option among Ibiza hotels. Nestled in the heart of Playa d'en Bossa, this hotel serves as a gateway to the best experiences the island has to offer.
The pool area is a focal point of the hotel, providing a perfect place to relax, soak up the sun, and enjoy the vibrant atmosphere. Dive into the crystal clear waters or lounge on the deck for an afternoon of pure relaxation.
Hotel Algarb is located within a stone's throw of the island's most beautiful beaches, making it an ideal base for beach lovers. Sink your toes into the warm sand and let the gentle waves wash over your feet as you take in the stunning scenery.
Strategically positioned close to Ibiza town, the hotel provides easy access to the island's bustling nightlife, charming boutiques, and delicious local cuisine.
In the realm of hotels that perfectly capture the spirit of Ibiza, Hotel Algarb shines, offering guests a delightful blend of comfort, location, and superb amenities.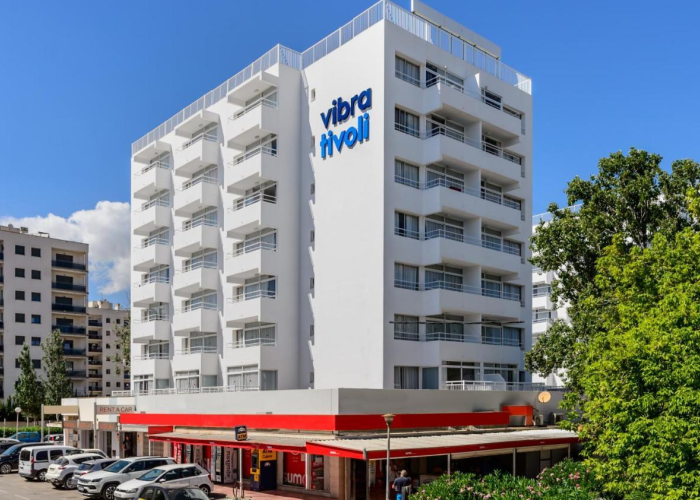 Apartamentos Tivoli
Address: Av. de Madrid, 6, 35100 San Bartolomé de Tirajana, Las Palmas, Spain
Apartamentos Tivoli is one of the best hotels in Ibiza if you're on a budget. Strategically situated in the vibrant Playa d'en Bossa, this Ibiza hotel combines convenience, comfort, and top-notch amenities for a memorable stay.
Just moments away, you'll find a beautiful sandy beach, offering guests an easy escape to the soothing rhythms of the sea. Soak in the sun, make a splash, or simply unwind while listening to the calming sound of waves on the beach.
Apartamentos Tivoli is also within easy reach of some of Ibiza's best clubs, allowing guests to immerse themselves in the renowned party scene the island is famous for.
Whether you are a beach lover, a party enthusiast, or a traveller seeking the perfect place to stay in Ibiza, Apartamentos Tivoli provides an unparalleled holiday experience that beautifully captures the charm and vibrancy of Ibiza.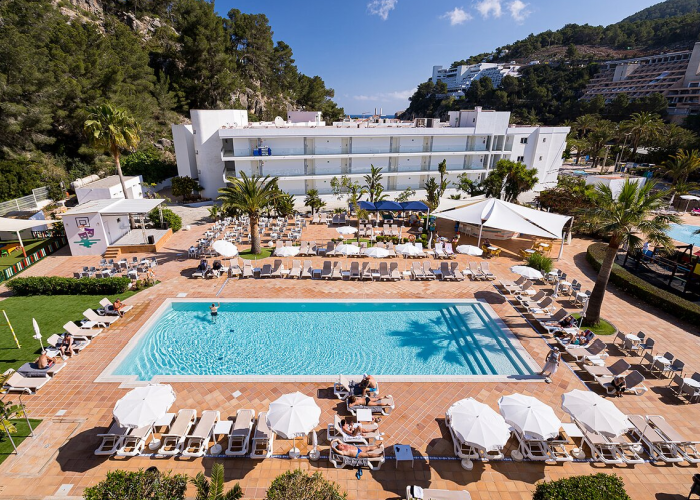 Balansat Resort
Address: Avenida Balansat, num 2, 07815 Port de Sant Miquel, Illes Balears, Spain
Welcome to Balansat Resort, a great hotel in the enchanting region of Puerto San Miguel, Ibiza. This resort offers a unique combination of comfort, leisure, and service, making it an ideal choice for those looking for the perfect hotel in Ibiza.
Each room at Balansat Resort is equipped with modern comforts like air conditioning to keep you cool in the balmy Ibiza weather, and satellite TV for those times you want to unwind with your favourite shows.
Outside, the resort boasts a spacious sun terrace where guests can lounge under the warm Ibiza sun or indulge in a leisurely meal while soaking up the breath-taking views.
Whether you're visiting Ibiza for its stunning beaches, vibrant nightlife, or simply seeking a relaxing getaway, Balansat Resort offers an exceptional stay with amenities and services designed for your comfort and enjoyment.
Conclusion
As we draw our journey to a close, we hope this guide has helped you discover the best hotels that Ibiza has to offer. Whether you're seeking the budget-friendly comfort of cheap hotels in Ibiza or the upscale luxury of the island's top resorts, there's an Ibiza hotel for every type of traveller.
Imagine waking up to the sight of a sandy beach, the sound of the waves lapping at the shore, and the taste of the Mediterranean Sea in the air. Perhaps you fancy a dip in a sparkling swimming pool or the exploration of the lively Ibiza city centre.
For families, our selection of family hotels offer a range of accommodations with amenities tailored to adults and children alike. Those seeking the vibrant nightlife can head to the lively town of San Antonio Bay, a hotspot for entertainment and dining.
In the diverse realm of Ibiza hotels, there's a perfect fit for every traveller. We hope our guide has made your choice a little easier, and that your stay in Ibiza will be filled with unforgettable moments.
Frequently Asked Questions on Cheap Ibiza Hotels
In this section we answer your questions on cheap hotels in Ibiza.
Where can I find cheap hotels in Ibiza?
You can find a wide array of affordable hotels in Ibiza in various parts of the island. Locations such as San Antonio Bay and Ibiza City Centre are known for their budget-friendly accommodation. It's recommended to check online hotel booking platforms for the best deals and customer reviews.
What are some cheap Ibiza hotels near the beach?
Ibiza is renowned for its stunning sandy beaches, and many affordable hotels offer close proximity to these beautiful landscapes. Hotels like the Ses Savines and Suitehotel S'Argamassa Palace are not only budget-friendly but also provide easy access to the beach.
Are cheap hotels in Ibiza suitable for families?
Absolutely! Many of the cheap hotels in Ibiza cater to families, with amenities such as children's pools, family rooms, and kid-friendly activities. It's always best to check with the hotel beforehand to ensure they can accommodate your family's needs.
Can I enjoy views of the Mediterranean Sea from cheap Ibiza hotels?
Yes, many affordable hotels in Ibiza offer stunning views of the Mediterranean Sea. Even on a budget, you can enjoy the mesmerising sight of the sea from your hotel.
Are there cheap hotels in Ibiza with swimming pools?
Certainly! Many of the Ibiza hotels that cater to budget-conscious travellers offer excellent amenities such as swimming pools. These provide a great place to relax and cool off after a day of exploring the island.
Are there any cheap hotels in Ibiza with good nightlife nearby?
Yes, there are several affordable hotels in Ibiza located near vibrant nightlife spots. San Antonio Bay and Ibiza City Centre are particularly known for their bustling night scene, with many budget-friendly accommodation in these areas.