Pleasurewood Hills: Your Guide to Lowestoft's American Theme Park
Searching for an exciting family day out? Pleasurewood Hills in Lowestoft is the perfect choice! This family theme park offers a range of attractions at affordable prices, ensuring a memorable experience for everyone.
In this guide, we'll cover everything you need to know, including ticket prices, park attractions and how to get a pleasurewood hills discount.
Pleasurewood Hills Family Theme Park:
Pleasurewood Hills Family Theme Park has been entertaining families for decades with its thrilling rides, captivating shows, and enchanting attractions.
Located in Lowestoft, Suffolk, the park offers something for everyone, from adrenaline-pumping roller coasters like Wipeout Pleasurewood Hills to the charming sea lion show.
Pleasurewood Hills reviews consistently praise the park for its variety, cleanliness, and friendly staff, making it a must-visit destination for families in the area.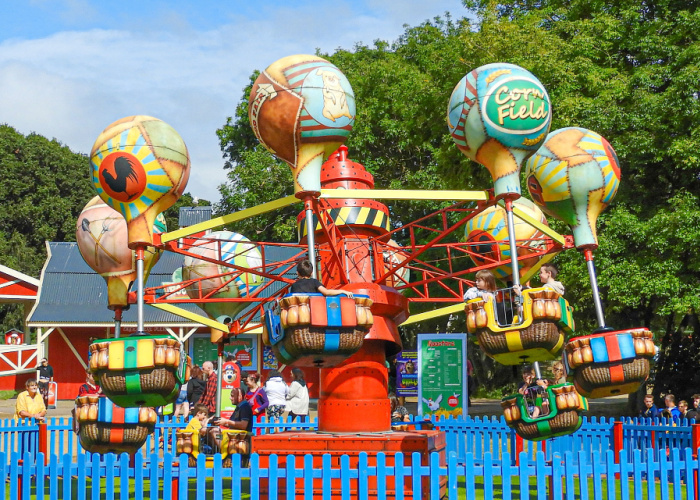 Pleasurewood Hills Tickets:
When it comes to Pleasurewood hills tickets, you'll find that the park offers great value for money.
With various ticket options, including day tickets and season passes, you can choose the best fit for your family.
Pleasurewood Hills Ticket Prices:
| Ticket Type | At the Gate | Online Tickets |
| --- | --- | --- |
| Adults | £24 | from £18.50 |
| Children over 90cm | £24 | from £18.50 |
| Children under 90cm | Free | Free |
| Blue Light Card holders | £18.50 | £18.50 |
| Disabled | £18.50 | £18.50 |
| Carers | £18.50 | £18.50 |
*Please note that these Pleasurewood Hills ticket prices are for the 2024 season.
How to get a Pleasurewood Hills Discount:
Here are a few ways to get a Pleasurewood Hills discount, to ensure you have a fantastic day out without breaking the bank.
Tesco Clubcard: If you're a Tesco Clubcard holder, you can exchange your points for 2x the value towards Pleasurewood Hills tickets. This is an excellent way to maximize your shopping rewards and save on your whole family's day out.
Blue Light Card Holders: Blue Light Card holders can enjoy discounted tickets all year round for just £18.50. This special offer applies to NHS staff, emergency services personnel, and armed forces members, making it a perfect opportunity to have a fun and affordable day at the park.
Disabled People and Carers: Pleasurewood Hills also offers a discounted rate of £18.50 for disabled people and their carers. This ensures that everyone can enjoy the park's attractions and have a memorable experience.
Make sure to take advantage of any Pleasurewood Hills discount you qualify for.

Pleasurewood Hills Shows:
In addition to thrilling rides and attractions, Pleasurewood Hills also offers a fantastic line-up of rides shows and attractions that cater to visitors of all ages.
Here are some of the most popular Pleasurewood Hills shows you won't want to miss:
Sea Lion Show: One of the park's most beloved attractions, the Sea Lion Show features talented sea lions performing impressive tricks and engaging with the audience. This interactive show is both educational and entertaining, making it an excellent choice for families with young children.
High Dive Show: Prepare to be amazed by the spectacular High Dive Show, where skilled divers showcase their incredible acrobatic feats from dizzying heights. This breathtaking performance is sure to leave you on the edge of your seat.
Parrot Show: The colourful and talented parrots at Pleasurewood Hills will charm and delight you with their incredible abilities. Watch as these intelligent birds perform tricks, solve puzzles, and even mimic human speech during this entertaining family fun and educational show.

Wipeout Pleasurewood Hills:
For thrill-seekers, Wipeout Pleasurewood Hills is an extreme roller coaster and a must-try. This iconic roller coaster has been delighting and terrifying visitors for years with its exhilarating twists, turns, and drops.
As one of the most popular attractions at the park, Wipeout Pleasurewood Hills consistently receives rave reviews for its adrenaline-pumping excitement.
Keep in mind that there may be height restrictions for younger visitors, so be sure to check the requirements before joining the queue.
Food and Drink Options at Pleasurewood Hills:
A day full of excitement at Pleasurewood Hills can work up quite an appetite, but don't worry as the park has you covered!
Here are some of the most popular food and drink options available at the park:
Tony's Pizza and Pasta: If you're in the mood for Italian cuisine, head over to Tony's Pizza and Pasta. Here, you can enjoy delicious pizzas with a variety of toppings, as well as mouth-watering pasta dishes that will keep you coming back for more.
Smokey Joe's: For fans of classic American fare, Smokey Joe's is the place to be. Serving up juicy burgers, hot dogs, and crispy fries, this eatery offers all your favorite comfort foods to keep you fueled for a day of fun.
The Chicken Shack: Craving something a little more substantial? The Chicken Shack offers tasty fried chicken, chicken strips, and a range of side dishes that will satisfy even the hungriest of visitors.
Sugar 'n' Spice: If you've got a sweet tooth, don't miss Sugar 'n' Spice. This delightful dessert spot serves up an array of tempting treats, including ice cream, waffles, and doughnuts – perfect for satisfying your sugar cravings.
Refreshment Kiosks: Scattered throughout the park, you'll find several refreshment kiosks offering a variety of drinks and snacks. Grab a cold beverage, a bag of popcorn, or a quick snack to keep you going between attractions.
With so many delicious food and drink options to choose from, you'll be spoilt for choice during your visit to Pleasurewood Hills Family Theme Park.

Pleasurewood Hills Rides:
Pleasurewood Hills is home to a wide variety of rides, catering to visitors of all ages and levels of bravery. From heart-pumping roller coasters to gentle kiddie rides, there's something for everyone at this family theme park.
Here are some of the most popular rides at Pleasurewood Hills:
Wipeout: This iconic roller coaster is a must-try for thrill-seekers, featuring exhilarating drops and twists that will leave you breathless. Riders must be a minimum height of 1.4m.
Egg-Spress: Younger visitors will love this adorable train ride, which takes them on a scenic journey through the park. Riders must be a minimum height of 0.8m.
Fireball: This spinning ride is not for the faint of heart, as it rotates and swings riders at high speeds. Riders must be a minimum height of 1.2m.
Marble Madness: Test your coordination and balance on this dizzying ride, which twists and turns in unexpected ways. Riders must be a minimum height of 1.2m.
Pirate Ship: Swing back and forth on this classic ride that simulates the motion of a ship at sea. Riders must be a minimum height of 1.1m.
Pleasurewood Hills Height Requirements
The height requirements for these popular rides are as follows:
| Ride | Minimum Height Requirement |
| --- | --- |
| Wipeout | 1.4m |
| Egg-Spress | 0.8m |
| Fireball | 1.2m |
| Marble Madness | 1.2m |
| Pirate Ship | 1.1m |
Pleasurewood Hills Reviews:
With a long history of satisfied visitors, Pleasurewood Hills reviews speak for themselves. Guests often praise the park for its diverse range of attractions, which cater to both young children and thrill-seeking adults.
Additionally, the clean and well-maintained facilities, coupled with friendly and helpful staff, make for an enjoyable day out for. For an inside look at the park, here is a recent review from a user on TripAdvisor…
We went with our children aged 10 and 6 years old. One is a thrill seeker who loves big rides and the other prefers to stay closer to the ground! Both found plenty of rides to suit them and things we could all do together. Friendly staff and queues weren't too long on the day we went. We took a picnic but had ice creams at the park which were very nice. I would recommend this park as a fun family day out.
Final Thoughts
Pleasurewood Hills in Lowestoft is the perfect destination for a fun-filled family day out. With its diverse range of attractions, reasonable prices, and rave reviews, it's no wonder the park has become a beloved staple in the region.
If you're planning to visit Pleasurewood Hills this year why not check out our post on the Lowestoft Travelodge? The Lowestoft Travelodge is located just a few minutes walk from the theme park's entrance.
Read More: