MSC Virtuosa Buffet: A First-Timer's Guide on What to Expect
Find out about all the tasty food you can eat on an MSC Virtuosa Cruise. From the big buffet to meals for special diets, we've got all the info!
Let's take a good look at the food you can get at the MSC Cruise buffet.
Marketplace Buffet on MSC Cruises
MSC Cruises' Marketplace Buffet is a foodie's paradise. It's a place where you can try a whole world of different dishes, all under one roof. And the best part? It's all included in your cruise fare.
For example, on the MSC Virtuosa cruise, the buffet can serve up to 1,336 passengers. That means everyone gets a chance to try the tasty food on offer.
The buffet is open from the crack of dawn till late in the evening. So, whether you're an early bird or a night owl, you'll always find something delicious to eat.
The Marketplace Buffet has a wide range of both international and Mediterranean dishes. So, there's always something new and exciting to try.
Now, let's take a closer look at what's on the menu.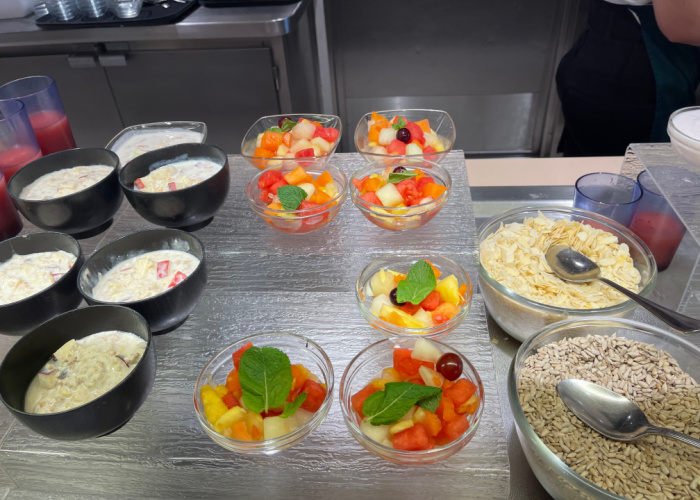 Breakfast Offerings
Begin your day with a hearty breakfast at the MSC Marketplace Buffet. Whether you're a fan of a traditional English breakfast or a bowl of fresh fruit, there's something for everyone.
If you have a sweet tooth, you can't miss the delicious pastries with a French flair. They're guaranteed to satisfy your cravings.
For those who prefer a healthier start, the buffet has you covered with a variety of fruits and cereals. So, whether you're craving a full breakfast or a light snack, the Marketplace Buffet has something to suit your appetite.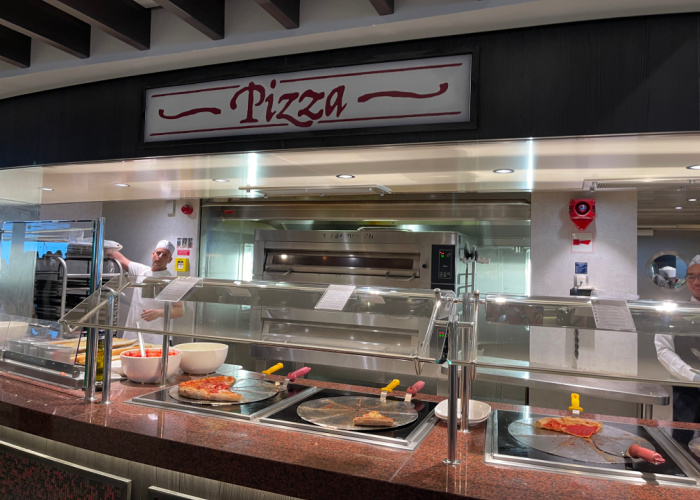 Lunch and Dinner Selections
As the day goes on, the Marketplace Buffet keeps serving up tasty lunch and dinner options. Here's a peek at some of the yummy food you can find:
Hot, fresh pizzas
Homemade mozzarella cheese
Lots of different salads
Daily specials like hearty roasts
Juicy burgers
Warm, soothing soups
Grilled fish
Local favourites, like tasty pork belly
With so much to choose from, there's always something new and fun to try at the buffet.
Fancy a big plate of pasta? Or maybe a spicy Asian stir-fry? Whatever you're in the mood for, the Marketplace Buffet's big menu makes sure everyone finds something they love.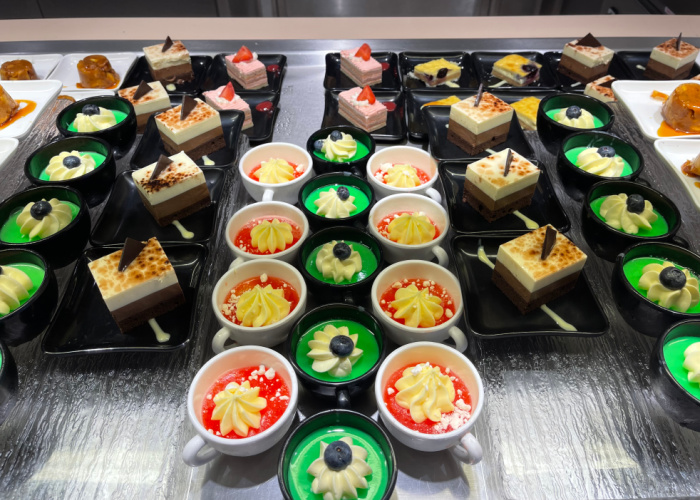 Desserts and Sweet Treats
Dessert Time! Who doesn't love ending a meal on a sweet note? The Marketplace Buffet is a dessert haven! It offers everything from classic cakes like chocolate and fruitcake to New York cheesecake.
But, what if you're in the mood for something a bit lighter? No worries! The buffet also has a selection of refreshing fruit salads and yogurts to cleanse your palate and satisfy your sweet tooth.
For those who have dietary restrictions, the MSC Cruise buffet has you covered with sugar-free and low-calorie options. This means everyone can enjoy a delicious dessert without worry.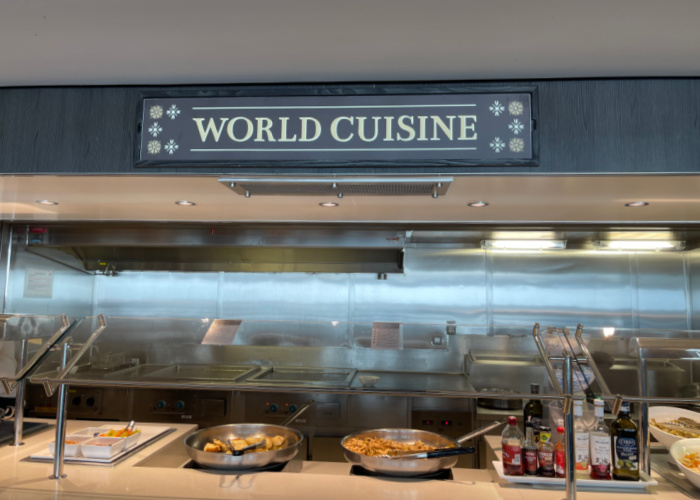 Special Themed Nights at the Buffet
The MSC Cruise buffet has special themed nights. These nights have food from all around the world. It's like trying food from different countries without leaving the ship.
You can try food from the Mediterranean on Mediterranean Night, taste food from Asia on Asian Fusion Night, and enjoy BBQ on American BBQ Night. Each night has different food to try.
Let's look at what each themed night has.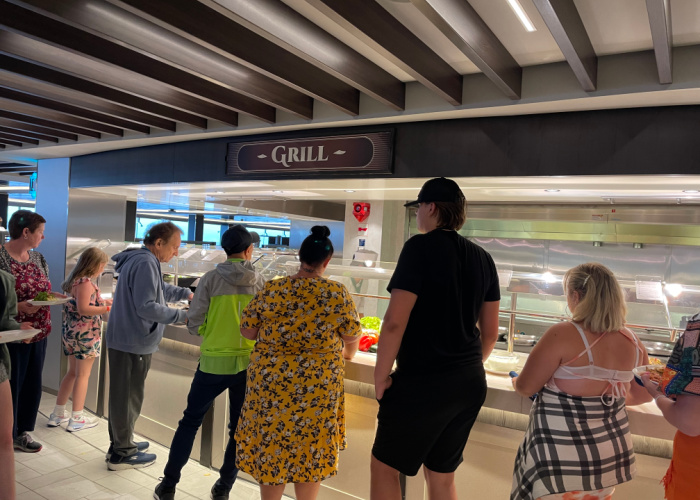 Mediterranean Night
During Mediterranean Night, the buffet comes alive with the vibrant flavours of the region. Feast on dishes like paella, tapas, and a variety of fresh seafood, all prepared with the finest ingredients and traditional techniques.
The menu also features an array of Mediterranean specialties, such as:
Aubergine Rolls Mediterranean Style
Lasagna
Duck Foie Gras
Scallops
Swordfish
Smoked Duck Breast
With a wide array of enticing dishes, Mediterranean Night honours the region's rich culinary heritage.
Asian Fusion Night
Asian Fusion Night at the MSC Cruise buffet is a feast for the senses, offering a tantalising mix of Asian cuisines. From sushi and sashimi to stir-fries and noodle dishes, there's something to suit every palate.
In addition to the classic favourites, the buffet also features unique fusion dishes like:
Avocado Poke
Hawaii Kai-Style Crab Cakes
Lobster fried rice
Dan dan noodles
With a broad selection of flavours and textures, don't miss the culinary adventure of Asian Fusion Night.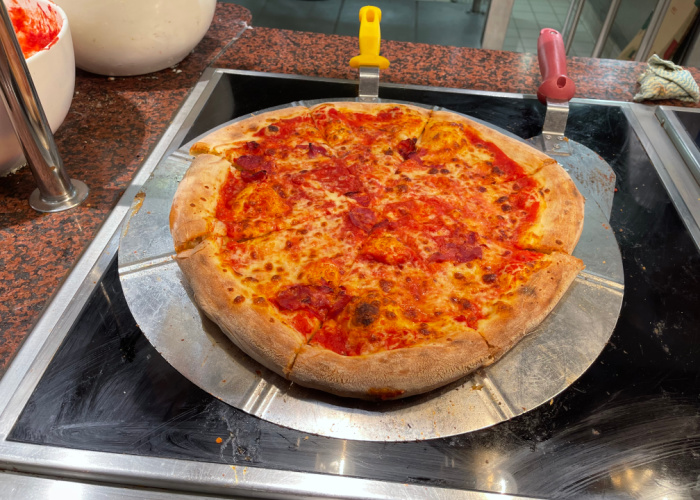 American BBQ Night
Embrace the spirit of the American BBQ Night at the MSC Cruise buffet, where classic barbecue favourites take centre stage.
Sink your teeth into tender ribs, juicy burgers, and sizzling hot dogs, all cooked to perfection and served with a side of grilled vegetables.
For those looking to expand their BBQ horizons, the buffet also features international dishes like spring rolls, ensuring that there's a taste of home for everyone.
Whether you prefer a traditional American BBQ or a more international dining experience, this American style steak house themed night caters to you.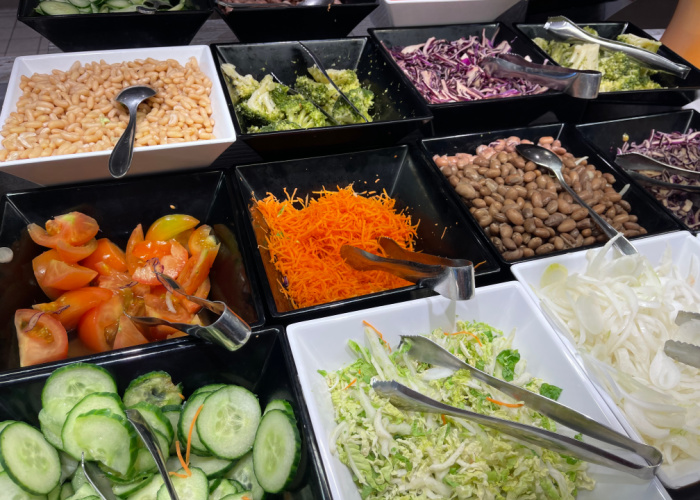 Dietary Requirements and Healthy Options
Catering to a variety of dietary requirements and preferences, the MSC Cruise buffet ensures that everyone can enjoy a satisfying meal. The buffet offers a wealth of choices to suit your needs, including:
Vegetarian options
Vegan options
Gluten-free options
Allergy-friendly dishes
Whether you're searching for plant-based protein, avoiding gluten, or aiming for healthier options, the Marketplace Buffet caters to your needs.
Let's examine some of the dietary options and healthy choices available at the buffet:
Plant-based protein options
Gluten-free options
Fresh fruits and vegetables
Whole grain options
Low-fat and low-sodium choices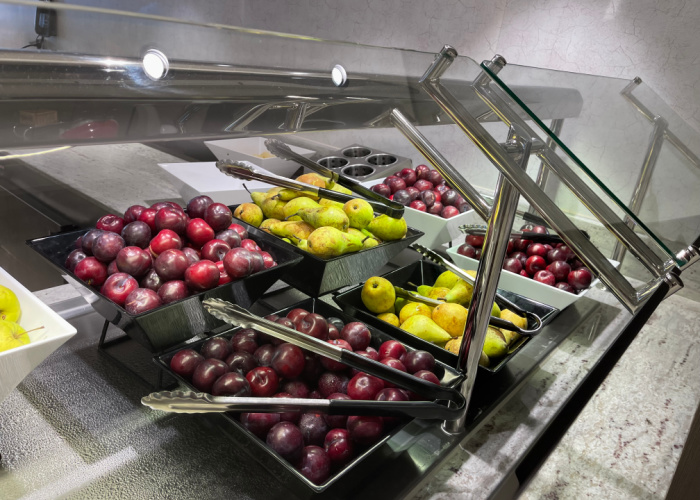 Vegetarian and Vegan Choices
For those following a vegetarian or vegan diet, the Marketplace Buffet offers an abundance of tasty options.
Enjoy in dishes like stuffed calzone with veggies and tofu, steamed jasmine rice with red beans, and crispy tortillas with sweet potato puree.
With a range of plant-based dishes, the MSC Cruise buffet ensures that vegetarians and vegans enjoy a varied and fulfilling dining experience.
Gluten-Free and Allergy-Friendly Options
For guests with gluten sensitivities or allergies, the MSC Cruise buffet offers a range of gluten-free and allergy-friendly options.
To ensure a safe and enjoyable dining experience, MSC Cruises takes special care to provide separate preparation areas and dedicated menus for guests with food allergies and intolerances.
Simply inform the staff of your needs, and they'll be happy to accommodate you.
Drink Options Available on the MSC Virtuosa
Quench your thirst with the wide array of beverage options and packages available at the MSC Cruise buffet.
Whether you prefer a simple glass of water or a refreshing cocktail, there's a drink to suit every taste.
From complimentary drinks like:
water
tea
coffee
select juices
To premium beverage packages covering alcoholic and non-alcoholic options, you can choose the perfect package to match your preferences and budget.
Let's examine the beverage options and packages available.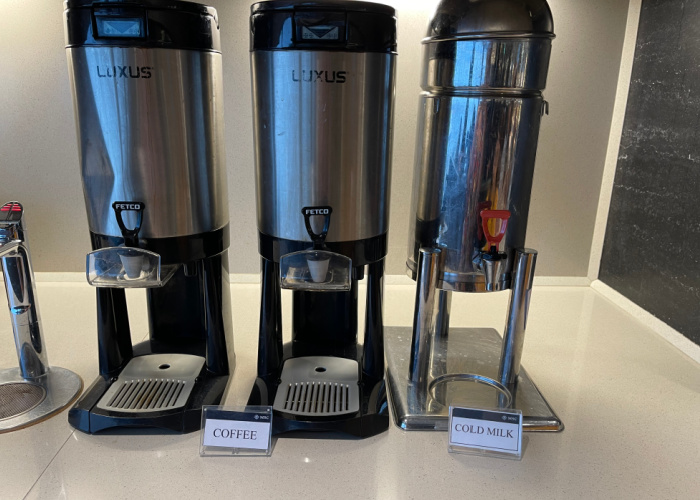 Complimentary Drinks
Included in your MSC Cruise fare, complimentary drinks such as:
water
tea
coffee
select juices
are available at the buffet. While these options may be basic, they're perfect for quenching your thirst between meals.
However, if you're craving something more indulgent, consider purchasing additional beverages or upgrading to a beverage package to enjoy a wider variety of drink options.
MSC Drink Packages
For those looking to enjoy a wider selection of beverages, MSC Cruises offers a range of beverage packages to suit your preferences and budget.
Options include the All-Inclusive Drink Package, Premium Extra Package, and Alcohol-Free/Minors Package, covering everything from cocktails to protein shakes and draught beers.
With prices from $17 to $71 per day, there's a beverage package for every budget. Whether you're a wine connoisseur or a cocktail lover, you'll find an ideal package to enhance your MSC Cruise buffet experience.
Read More: Are MSC Drink Packages Really Worth the Money?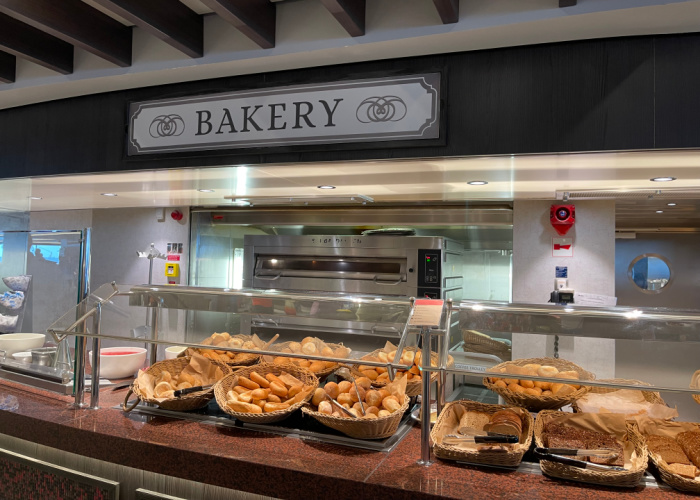 Tips for Enjoying the MSC Cruise Buffet Experience
To make the most of your MSC Cruise buffet experience, consider these helpful tips:
Arrive early to avoid peak meal times and secure a comfortable seat.
Don't be afraid to try new dishes and expand your culinary horizons.
Remember to pace yourself, as there's always a new dish to discover.
Final Thoughts
The MSC Cruise buffet offers a culinary delight like no other, with a vast array of food options, special themed nights, and a range of dietary and beverage choices to suit every guest.
With these tips in mind, you're sure to have a delightful and memorable dining experience aboard your MSC Cruise.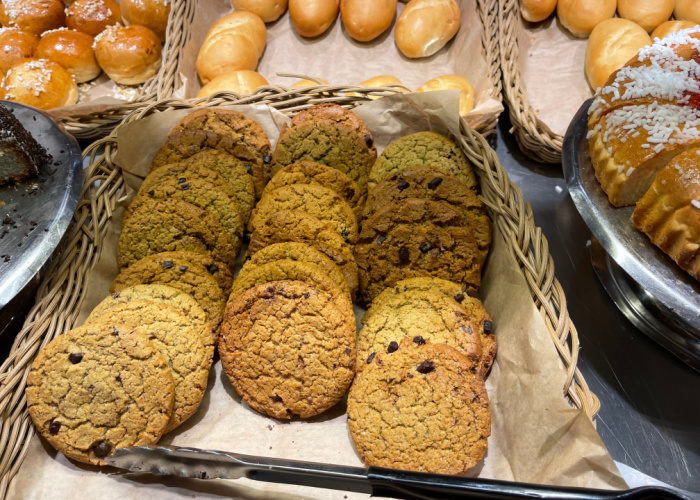 Frequently Asked Questions
In this section, we answer some of the most common queries about the MSC Virtuosa Buffet.
What is complimentary dining on MSC?
Enjoy a delicious breakfast, lunch and dinner included in your MSC Cruises cruise fare. Complimentary dining is served in the main dining room or buffet of the ship, with other options like speciality dining or room service available for an extra cost.
What food is free on MSC virtuosa?
On MSC Virtuosa cruises, you get all your meals for free in the main dining rooms and buffet. You won't be bored with the variety of food available, so there's something for everyone!
What Are the Opening Hours of the MSC Virtuosa Buffet?
The MSC Virtuosa's Marketplace Buffet is open approximately 20 hours each day. It offers breakfast, lunch, snacks, dinner, and some early morning snacks, ensuring guests have a wide range of dining options throughout the day and night.
What Is the Quality of the Food at the MSC Virtuosa Buffet?
The food quality at the MSC Virtuosa's buffet is held to a high standard, with many items made fresh daily. Guests can expect a satisfying culinary experience with a focus on freshness and variety.
Is There a Kids Area in the MSC Virtuosa Buffet?
Yes, there is a dedicated kids area in the MSC Virtuosa's Marketplace Buffet. This area is designed to cater to the dining needs and preferences of younger guests, offering child-friendly food options and a comfortable dining environment for families.